Plano deaf wrestler Andrew Suarez: 'Nobody can stop me'
PLANO, Texas - When Andrew Suarez wins a match, the Plano Senior High School wrestling team does not scream his name.
Instead, they pound the mat, so he can feel their support.
Andrew Suarez was born deaf.
"He had some hearing, but not at talking level," said Sheryl Suarez, his mother.
Not being able to hear has been an obstacle, including inside of Plano's wrestling room.
"It is a big challenge," said Andy Rettke, Plano's head wrestling coach.
But being deaf hasn't stopped Suarez from becoming one of the best wrestlers in all of Texas.
"I really enjoy slamming them down," said Andrew, through his interpreter. "Being stronger than the other guy."
"The team wanted to get to know, 'Who is Andrew Suarez? Why is he so successful? What is inside of him that makes him this awesome?'"
Part of what makes Andrew awesome, as I found out talking with him and his interpreter, Perry, is a strong sense of humor.
Me: "Will you both promise no inside jokes during this interview?"
"No," responded Andrew, laughing with Perry. "I don't believe so."
"At least I don't have to wrestle him," I said to Perry.
Andrew: "I don't want to break your (neck)," joked Andrew.
Me: "I don't want that either."
Andrew hasn't always had that confident energy. Growing up in Florida, navigating life as a deaf athlete was a struggle.
"In Florida, I don't know why, but people could not connect with me," said Andrew.
"It was awkward for those in the non-deaf community coaching our son," remembers Kevin Suarez, Andrew's father.
That changed when the Suarez family moved to Plano.
"They've always supported me here," said Andrew. "They've kept me motivated, they've kept me going."
MORE: High School Sports Stories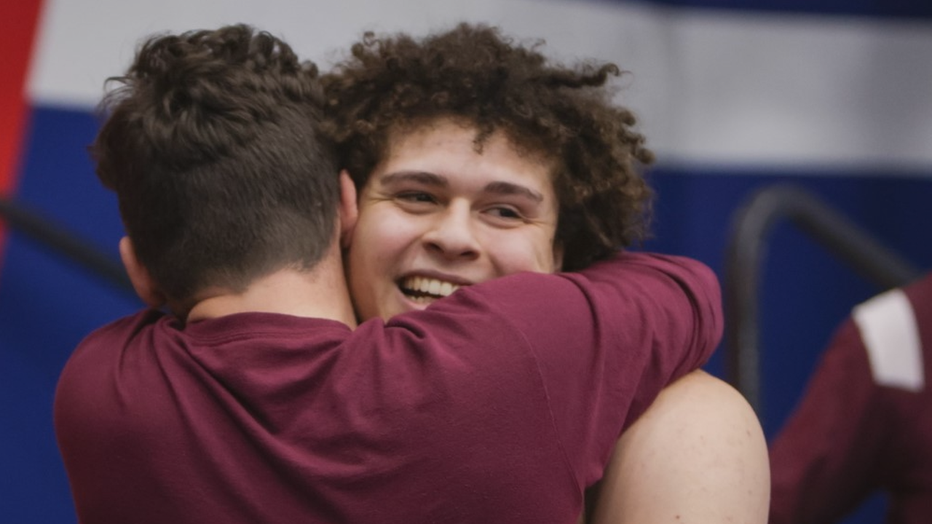 Plano Senior High School wrestler Andrew Suarez made the state tournament, learning the sport as a deaf athlete.
Plano wrestling head coach Andy Rettke was on a search mission for good athletes to recruit to his team, when he spotted Andrew two years ago.
"I remember seeing him walking through the hallways and I went up and was trying to talk to him and he just kept giving me a funny look," recalls Rettke, smiling. "At that point I didn't realize that Andrew was actually a deaf athlete."
The recruiting mission succeeded. All of a sudden, Andrew was immersed in a sport that begs you to quit…
There's two types of wrestlers," said Rettke. "Wrestlers who've tried to quit, and liars."
Suarez chose to stay.
"I can't give up," Andrew says. "I keep on and keep on."
Add Rettke: "Once you make it through that [quitting] point, you untap something in your brain and in your lifestyle of how you go moving forward."
Then it was up to Rettke to learn how to teach a wrestler without words.
"Through talking with the interpreters and talking with other coaches that have been in my situation we found plans that ultimately benefited him and worked very well," said Rettke.
So well, that in just his second season, Andrew made the UIL boys state tournament – the only boy from Plano to do so this year.
Suarez qualified as the 12th ranked heavyweight boys wrestler in Class 6A for all of Texas. Andrew wound up winning one of his three matches, improving his final rankings in the state to 10th.
"It's an inspiration to me," said Kevin Suarez, emotionally. "He didn't give up. He didn't allow his impairment to get in the way."
"I feel like nobody can stop me," signs Andrew. "I can do it."