No. 3 TCU's decimated defense backed up by big-play offense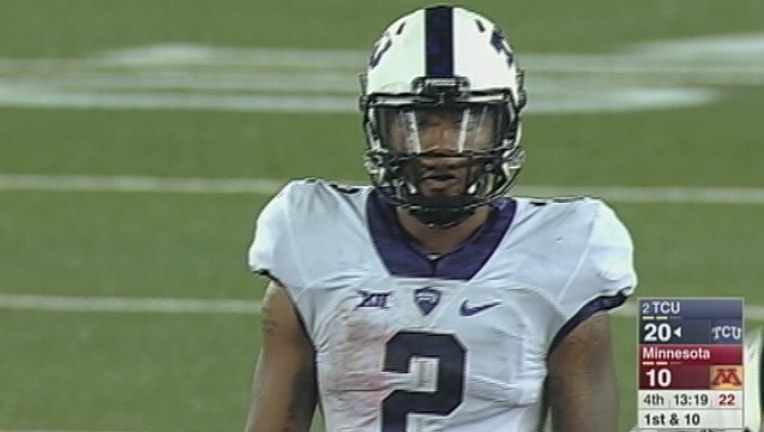 article
FORT WORTH, Texas (AP) — TCU defensive end Josh Carraway sometimes catches himself watching from the sideline when Trevone Boykin is making big plays.
"Sometimes I can't even believe it," Carraway said. "I'm just speechless when they do plays like that. But then I remember, 'Oh, they're my teammates, I get to get excited. ... They're on my team.'"
With the TCU defense decimated by injuries and depending on a bunch of younger players around Carraway, there has to be plenty of comfort knowing that the third-ranked Horned Frogs' high-powered offense can pile up the points.
"We've been excited about the amount of points and the amount of yards," coach Gary Patterson said. "You have the offense that you have, and you're trying to grow up a defense that can help match it."
It would almost certainly be a stretch to say the Frogs (3-0) would have to match their record-setting 82 points to beat Texas Tech (3-0) again this season. But they go into their Big 12 opener Saturday at Lubbock knowing they just might have to win a lot of scoring shootouts to keep their playoff hopes intact.
The Frogs are averaging 599 total yards and 50 points a game.
"We're really just doing what we do. ... We try to score a lot of points," Boykin said after the Frogs' 56-37 win over SMU last weekend when he had two spectacular TD passes to Josh Doctson. "If the defense gives up 55 points and we score 56, then it's all good with me at the end of the day as long as we win."
TCU has already used 11 first-year starters on defense. That includes both linebackers in the season opener who didn't make it to the second game — Sammy Douglas got hurt against Minnesota and true freshman Mike Freeze took an indefinite leave for personal reasons after being an early enrollee, going through spring practice and earning a starting job.
Senior defensive end James McFarland hasn't played yet after breaking a toe on a sprinkler head. Senior defensive tackle Davion Pierson has been sidelined all season by a concussion and recurring symptoms, though he is expected to make his season debut Saturday.
After senior safety Kenny Iloka suffered season-ending knee injury in the second game, cornerback Ranthony Texada suffered the same fate last week against SMU. Senior defensive end Terrell Lathan sustained an undisclosed injury last Saturday, and he's out as well.
Senior defensive end Mike Tuaua played in the season opener with a partially torn ligament, but has been suspended since allegations by a TCU student that Tuaua and freshman receiver Andre Petties-Wilson stole a case of beer after attacking him and his friends the night after the season opener. The two players were arrested Monday.
Patterson said the only approach can be "just plug the next guy in" like he's always tried to do. That means preparing players that might not have expected to play this early, having them ready for special teams and to provide depth on defense.
"I'm not sure I've ever been a part of where you lose so many starters, especially this early," Patterson said. "You've got to be careful about talking about it too much. ... Now we're going into Big 12 play, and you really need to be thinking about Texas Tech, your next opponent, than you need to be thinking about that. There's not anything you can do about the rest of it."
___
Online:
AP college football website: www.collegefootball.ap.org