Jerry Jones surprises high school team with $1 million check to rebuild field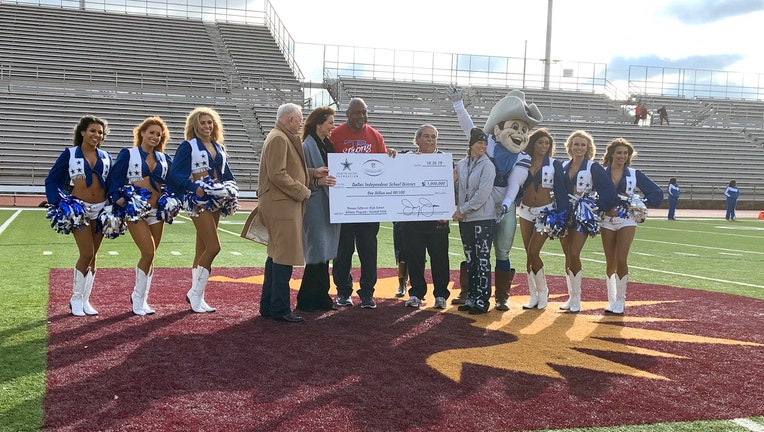 article
DALLAS - The Dallas Cowboys and NFL Foundation made a huge donation to help get one school damaged by Sunday's tornadoes back on their feet.
Cowboys owner Jerry Jones surprised the Thomas Jefferson High School football team Saturday with a $1 million donation to help build a new athletic field.
An EF-3 tornado last Sunday nearly destroyed Thomas Jefferson High School.
The storm damage forced Dallas ISD to move the students and classes to the old Thomas Edison Middle School in West Dallas during homecoming week.
The school's band found out their instruments survived the storm but the football team wasn't as lucky. Their field was destroyed and much of their gear needed to be replaced.
Thankfully, Southern Methodist University donated equipment so the team could play Saturday's homecoming game against Spruce High School.
It's been a week of rebuilding during what should have been homecoming week at Thomas Jefferson High School.
"Adversity doesn't defeat you unless you let it," said former Cowboy and Pro Football Hall of Famer Charles Haley.
The school was one of three Dallas ISD schools severely damaged by a tornado that touched down in North Dallas.
The tornado destroyed the school building and football field, and forced 1,800 students to move to another campus ten miles away.
But in the face of that adversity, the TJ community is bouncing back.
"TJ is a building, it's just a building. TJ is right here," Haley added.
With the team losing their home field and much of their equipment, the homecoming game was rescheduled to Saturday morning.
Fans and alumni came out in full force, along with special guest, Jerry Jones.
"The Dallas Cowboys and the National Football Foundation want to give $1 million to get that field back," Jones said.
The money will go toward rebuilding the football field and replacing equipment.
"Certainly, we know what sports can mean. We know what football can mean. It's more than a field, it is about community. Community never stands taller than when you help out when others have been distressed," Jones added.
Helping to rebuild Thomas Jefferson High School one step at a time.
"These kids will never forget Sunday night and Monday morning, but they will also never forget Saturday morning just a week later," Dallas ISD Superintendent Dr. Michael Hinojosa said.
"It's about family, this is the value of football, this is the value of team, this is where we all come together," Charlotte Jones Anderson said.
The Cowboys organization has already started working with contractors on the rebuilding project.
Fans attending the Cowboys' game vs. the Vikings next month at AT&T Stadium can also purchase raffle tickets that will go toward the Salvation Army for storm relief efforts.
You can also make a $10 donation by texting "Cowboys" to 20222.