Former Cowboys first round pick says he 'can't run or jump' due to injuries
DALLAS - Former Dallas Cowboys cornerback Byron Jones tweeted Saturday that his NFL career came at a "regrettable cost."
Jones responded to a 2015 tweet from the NFL, which talked about the UCONN product's world record 12-foot 3-inch broad jump.
"Much has changed in 8 years. Today I can't run or jump because of my injuries sustained playing this game. DO NOT take the pills they give you. DO NOT take the injections they give you. If you absolutely must, consult an outside doctor to learn the long-term implications," Jones wrote.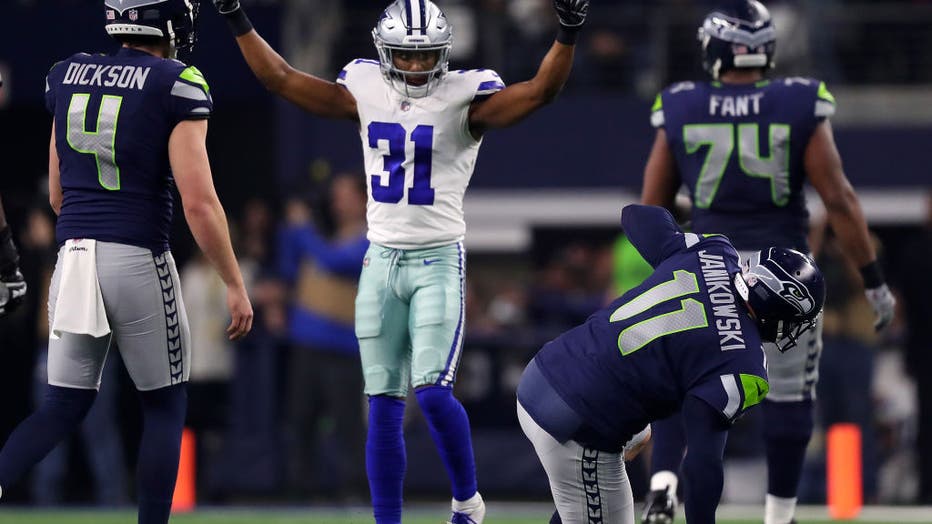 ARLINGTON, TEXAS - JANUARY 05: Byron Jones #31 of the Dallas Cowboys reacts after an unsuccessful field goal attempt by Sebastian Janikowski #11 of the Seattle Seahawks at the end of the second quarter during the Wild Card Round at AT&T Stadi
Jones was selected by the Cowboys with the 27th overall pick in the 2015 NFL Draft in part due to an incredible performance at the NFL Combine.
Dak Prescott's contract situation highlights Cowboys' offseason storylines
"It was an honor and privilege to play in the NFL but it came at a regrettable cost I did not foresee. In my opinion, no amount of professional success or financial gain is worth avoidable chronic pain and disabilities. Godspeed to the draft class of 2023," Jones continued to say.
Jones played for the Cowboys from 2015 to 2019, making the Pro Bowl for Dallas before signing a five-year, $82 million contract with the Miami Dolphins.
Dallas Cowboys legends DeMarcus Ware, Chuck Howley named to 2023 Hall of Fame class
Jones missed the entire 2022 season after having surgery on his Achilles.