First triple-double for TCU sinks Richmond 86-68 in NIT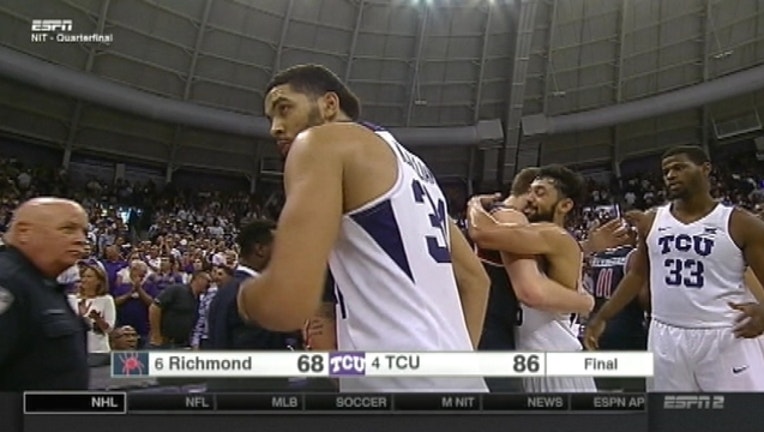 article
FORT WORTH, Texas (AP) - Vlad Brodziansky scored 20 points, Kenrich Williams had the first triple-double in TCU history and the Horned Frogs rolled over Richmond 86-68 on Tuesday night to win their bracket of the NIT and advance to the Final Four for the first time.
Williams had 11 points, 14 rebounds and 10 assists for TCU (22-15), which was seeded fourth and knocked out top-seeded Iowa in the second round. Desmond Bane added 13 points and Alex Robinson had 12.
The Horned Frogs, under first-year coach Jamie Dixon, will play the winner of UCF-Illinois in Madison Square Garden next Tuesday.
T.J. Cline had 33 points, seven rebounds and six assists for the sixth-seeded Spiders (22-13), De'Monte Buckingham had 11 points and Khwan Fore 10.
Brodziansky had six points in an early 11-0 run that put TCU up 21-9 and added another basket and two free throws to help push the lead to 32-15 with 4:39 left in the first half. He had 16 points and Williams had 9 with 10 rebounds as the Frogs shot 50 percent and led 41-26 at the break.
After six quick Richmond points cut it to nine, TCU went on a 13-1 run with Brandon Parrish, JD Miller and Bane hitting 3s. Richmond never challenged after that even though Cline scored 23 points on 10-of-13 shooting.