Dallas Stars president issues apology after fans throw trash on ice during blowout loss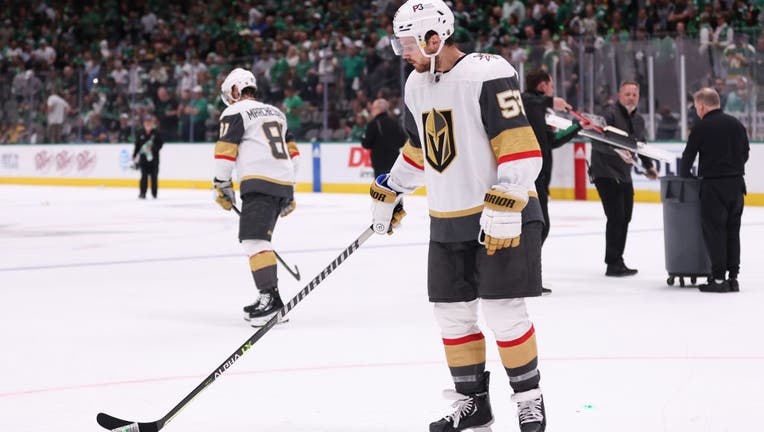 article
DALLAS - Dallas Stars president and CEO Brad Alberts issued an apology on Wednesday morning after frustrated fans threw trash on the ice during Tuesday night's blowout loss to the Golden Knights.
The second period of the game between Dallas and Vegas ended 21 seconds early after fans threw water bottles, food and other items on the ice following a game misconduct for Stars center Max Domi.
Those final 21 seconds were played after the intermission before the clock was reset to 20 minutes for the third period.
"On behalf of the Dallas Stars organization, I would like to apologize to the Vegas Golden Knights and the National Hockey League for the actions of a few of our spectators at last night's game." said Alberts. "Their actions were unacceptable and put the safety of the players and fans at risk."
"We take pride in providing the best experience for everyone who enters our arena. The actions of these individuals certainly do not reflect our great city, organization and loyal fan base," he continued.
It was a frustrating night overall for the Stars.
The Golden Knights scored 71 seconds into the game, and Stars captain Jamie Benn was issued a game misconduct for a cross-check less than a minute later. The league is reviewing the incident for a possible suspension.
Stars starting goalie Jake Oettinger was pulled from the game with 12:50 left in the first period after allowing 3 goals.
Many Stars fans didn't stick around for the third period of the game, with many seats left empty for the final frame.
The final score was 4-0 Vegas.
The Stars are now in a 3-0 hole against the Golden Knights in the best of 7 series.
Game 4 will be at the AAC on Thursday.