Dallas Stars fire head coach Jim Montgomery
DALLAS - The Dallas Stars unexpectedly fired second-year head coach Jim Montgomery on Tuesday morning for what team officials called "unprofessional conduct."
Stars General Manager Jim Nill was vague on the details of what actually took place. Nill said he got a phone call on Sunday about a "material act of unprofessionalism" that could not be tolerated. An internal investigation found basis for dismissal after consultation with the team's general counsel.
"The Dallas Stars expect all of our employees to act with integrity and exhibit professional behavior while working for and representing our organization," Nill said. "This decision was made due to unprofessional conduct inconsistent with the core values and beliefs of the Dallas Stars and the National Hockey League."
He said the firing was not based on Montgomery's performance and has no connection to a criminal investigation or any past or present players. No other employees were involved. Nill also said the decision was made before the NHL's four-point initiative was announced Monday, which is in response to allegations against coaches of racism and physical abuse. There have been no indications that any allegations like that led to Montgomery's firing.
"Monty was very disappointed. I can't speak for him but I know he's very disappointed, we're disappointed too," Nill said. "We had to do the right thing in this situation."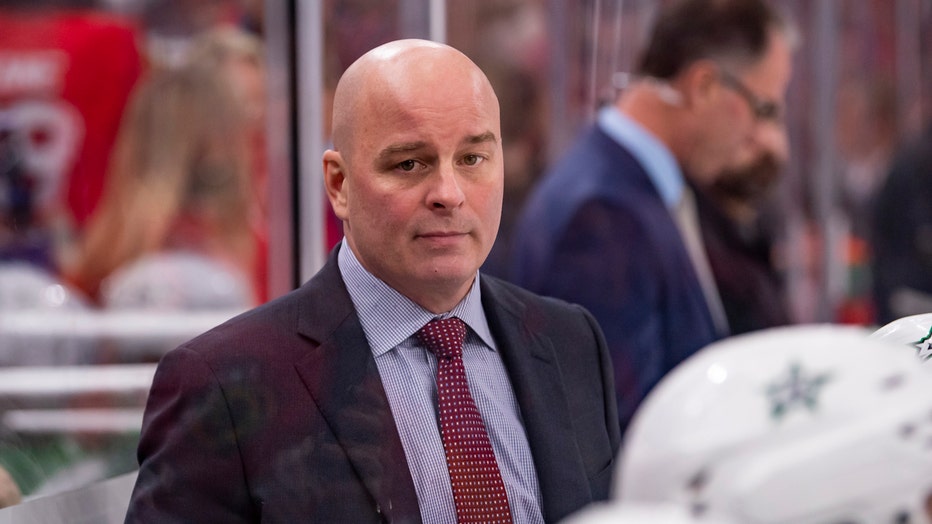 CHICAGO, IL - NOVEMBER 26: Dallas Stars head coach Jim Montgomery in the first period during a game between the Dallas Stars and the Chicago Blackhawks. (Photo by Patrick Gorski/Icon Sportswire via Getty Images)
Montgomery took over as coach last season and led Dallas back to the playoffs for the first time in three years. After the Stars got off to a horrendous 1-7-1 start this season, they won seven of eight and have also recently had a seven-game winning streak. They entered the day 17-11-3, in one of the Western Conference's top wildcard spot. Dallas has won its past two games after a four-game skid.
Assistant coach Rick Bowness will take over as interim head coach for the rest of the season. Texas Stars head coach Derek Laxdal will join him as an assistant. Nill said the current coaching staff would remain in place for the rest of the season.
Bowness said he was clueless that anything was about to happen to Montgomery and found out about the changes Tuesday morning.
"It's a shock to all of us. Usually, when a coach takes over a team they're struggling. I'm in a fortunate position that Monty was an excellent coach and has got this team playing very well. The cold reality is we have a game to play tonight," he said.
Bowness said he's excited about the opportunity to serve as a head coach again and believes the team needs to just keep doing what they've been doing. He encouraged the players to get themselves physically and mentally prepared to play Tuesday night – stay focused and execute, he said.
Bowness will be the sixth coach in captain Jamie Benn's 11 seasons with the Stars. It's the fourth since Benn was named captain right after Nill was hired and replaced Glenn Gulutzan with Lindy Ruff. Ruff lasted four seasons. Then Ken Hitchcock spent one season behind the Dallas bench 19 years after leading the franchise to its only Stanley Cup title. Montgomery replaced Hitchcock.
"We didn't expect this one today," Benn said. "But Monty is a great coach, a great person and that's why this one's a little tougher. I had a great relationship with him. It's almost like when teammates get traded or you lose players within your organization. It's kind of the same feeling where it doesn't feel good."
Tyler Seguin also called the firing unexpected when he spoke with the media.
"It's confusion. Shock. It's definitely sad," Seguin said. "Really liked Monty, great coach, and [I was] saying all along, I was looking forward to this being the last coach of my Stars career."