Cowboys still tinkering at running back, confident in plan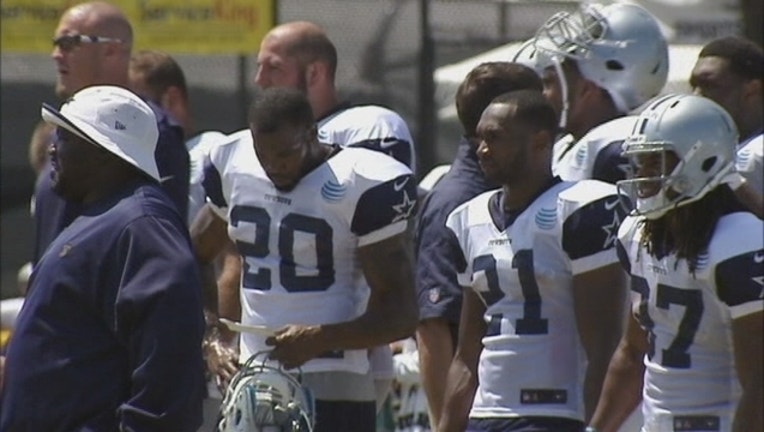 article
IRVING, Texas (AP) — Two things seem settled at running back for Dallas going into the season opener: Joseph Randle should start behind Tony Romo even though there's been no official word, and newly acquired Christine Michael probably won't be ready to contribute.
Other than that, the Cowboys are no closer to answers for how they will replace NFL rushing champion DeMarco Murray than they were when training camp started six weeks ago. That doesn't mean they don't think they will have solutions starting Sunday night at home against the New York Giants.
"I think all the pieces are there," executive vice president of personnel Stephen Jones said on his radio show Tuesday. "We like what we got there in the offensive line. We like our running backs."
The Cowboys gave the Seahawks a conditional late-round pick for Michael on Sunday, backing up Jones' contention throughout camp that they might add a running back. He was also fond of saying Dallas will keep looking after the season starts.
But Michael's addition raises a question: Are Randle, Darren McFadden and Lance Dunbar physical enough to make up for the loss of Murray, who used a punishing style to break all-time NFL rushing leader Emmitt Smith's franchise record with 1,845 yards rushing before signing with NFC East-rival Philadelphia in free agency?
"I just think you are always looking for opportunities to upgrade your team," coach Jason Garrett said Monday. "You have conversations with everybody around the league and you look at your team. And say, 'How can we get better? How can this guy help us?' We felt like he could help our team."
Michael, who wasn't available in the locker room when it was open to reporters Tuesday, had two quiet seasons as a backup to Marshawn Lynch after the Seahawks drafted him in the second round out of Texas A&M in 2013.
At 5-foot-10 and 220 pounds, he's built more for power running than Randle, who was Murray's backup for two seasons, and McFadden. But it's likely to be Week 2 — when the Cowboys visit Murray and the Eagles — before Dallas sees how Michael fits.
"Like with all the new guys coming in, their big challenge is to get acclimated to how we do things, our systems of football," Garrett said. "So there's going to be a lot of work initially just to see where they are. And then we'll integrate them into practice and we'll make our evaluations from there."
It didn't bother McFadden to have another player thrown in the mix late. The 28-year-old signed with Dallas a day after Murray's decision and following seven mostly disappointing seasons as the fourth-overall pick by Oakland in 2008.
"It's never a deal where you shouldn't have any running backs," McFadden said. "It's a long season. Anytime you have a good back like Christine coming in, it's a plus for the team."
The Cowboys aren't saying they have someone capable of rushing for 1,800 yards on their roster. But they are saying they could get to 2,000 yards as a team without a dominant back. Dallas did it in 2009, winning the NFC East and a playoff game without a 1,000-yard rusher.
The primary reason for optimism is an offensive line with three Pro Bowl players in right guard Zack Martin, left tackle Tyron Smith and center Travis Frederick — all first-round picks since 2011 — and the team's first rookie All-Pro (Martin) since running back Calvin Hill in 1969. Jones also says the addition of more young players will help up front as well.
"There's a lot of different ways to be successful in the running game," Jones said. "Obviously, last year we did it with one back. This year I see a lot of people contributing to our success."
And maybe even some who aren't on the roster yet.
___
Online:
AP NFL website: www.pro32.ap.org and www.twitter.com/AP_NFL
___
Follow Schuyler Dixon on Twitter at https://twitter.com/apschuyler