44-year-old Colon could pitch his way into Rangers' rotation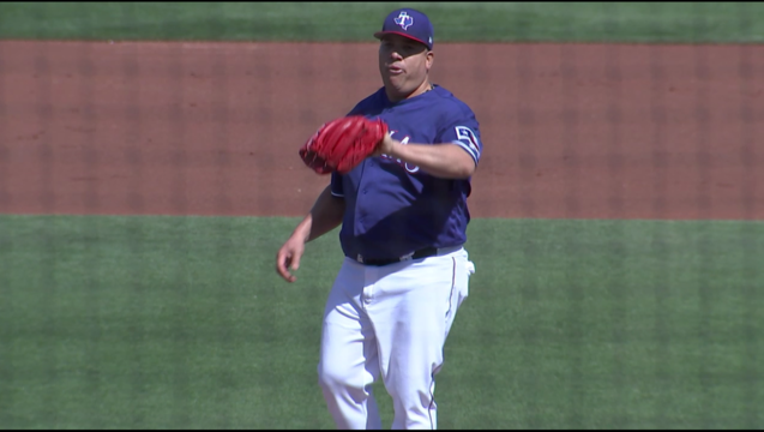 SURPRISE, Ariz. (AP) - Bartolo Colon could be pitching his way into the Texas Rangers' rotation at age 44 as he continues to shut down hitters half his age in spring training.
The Rangers also ended their try to move Matt Bush from the bullpen into the rotation.
"I'm very happy and I get to go back to doing what I know how to do," Bush said Monday. "There are plenty of good starters and this is a role they need me to go back to. They know what they are doing and I feel like it is the right decision."
The Rangers' rotation has a lot of moving parts.
Cole Hamels, Matt Moore and Doug Fister appear to be locks for the top three spots. Mike Minor remains a candidate, but could be switched to closer, a role he was effective in at the end of last season with Kansas City.
Left-hander Martin Perez threw 69 pitches in a minor league game Monday, allowing six runs, three earned, in four innings. He has been set back in spring training after breaking his right (non-pitching) elbow in December in an incident with a bull on his Venezuelan ranch. He could begin the season on the disabled list.
Clayton Blackburn, another rotation candidate, exited in the first inning in a Monday start against Cleveland with right elbow tightness. He will undergo further evaluation.
Enter Colon, the 2005 American League Cy Young Award winner who is in camp on a minor league contract. Colon no longer dominates with a mid-90s mph fastball, but he is deceptive with pinpoint control. He is making it difficult for the Rangers not to keep him.
"I don't think about it, because I have been in the game so long," Colon said through a translator. "I just have my job and let them make a decision."
In a Sunday start against the Los Angeles Angels, Colon allowed one unearned run over four innings. He permitted two hits, walked none and struck out three. He threw first-pitch strikes to the 15 hitters he faced.
"A lot of strikes, moved the fastball around, knows how to pitch," Rangers manager Jeff Banister said. "A lot of moxie on that mound and a lot of know-how, nothing rattles him."
Colon called it "one of the best" outings he had this spring.
"Because what I've been trying to do is throw strikes," Colon said. "That's what I've been doing to try to make it happen."
He retired the final seven batters he faced, including striking out Justin Upton to end the third and Albert Pujols to lead off the fourth. He threw only 19 of his 53 pitches in the final two innings.
"I was throwing a changeup, so I got them out of rhythm," Colon said. "That's why I got the outs quick."
In three appearances, Colon has a 1.04 ERA, giving up one earned run in 8 2/3 innings. He has struck out six, walked one and allowed nine hits.
Colon has a base salary of $1.75 million if he makes the team.
Meanwhile, the younger Rangers pitchers are paying close attention to Colon fooling hitters with less than overwhelming stuff.
"They can learn a lot," Colon said. "There is a reason why I have pitched so long in the major leagues."
And he is hopeful the Rangers want him to pitch even longer.