Water main break expected to be repaired Monday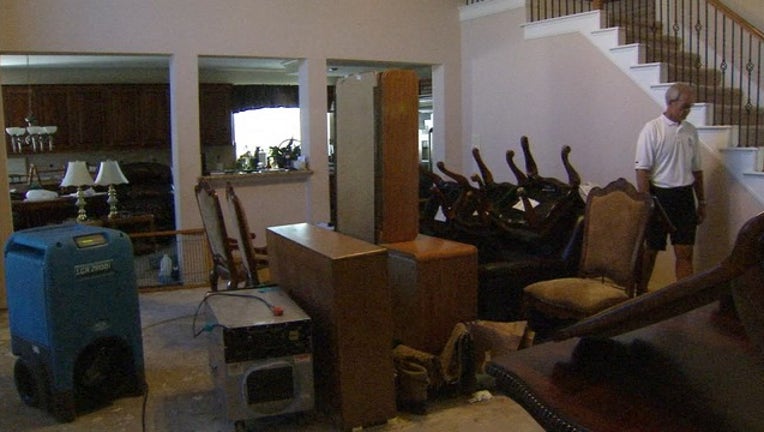 RICHARDSON - This Labor Day weekend, as many as 20 homeowners are working to clean up flood damage left from a man-made disaster.
Within seconds and without warning, a burst pipeline, 6 feet in diameter, destroyed what people have spent years building, the ground floor of their homes and all the possessions on their floors.
While the North Texas Municipal Water District is clearly acting quickly to replace the pipe three days after the millions of gallons of water spewed out, homeowners like Ken Hutchenrider still don't know when they will be compensated for the damage, or what will be covered.
"Best I can tell, we lost all of our furniture, it's starting to warp and split, our carpet, refrigerator freezers, everything that was on the ground level with 3 feet water shorted out or mechanical issue," said Hutchenrider. "Our water remediation people are trying to understand how far should they go, Normally insurance companies send out adjusters and they say 'yes, tear this out, don't tear that out, we can fix this,' etc etc. But we have no information along those lines as to what we're supposed to be doing. So it is very frustrating."
Hutchenrider says his insurance company's answer was direct.
"It's not our responsibility, not sending any one out, not helping us at all."
The North Texas Municipal Water District handed homeowners letters with a number to call, but on day 3 of the disaster all anyone has been able to get is a voicemail, with no return call.
In the meantime; the Hutchenriders are having to pay for a hotel while they wait.
"We don't have direction, we don't know what to do," he said.
In a press release, NTMWD said "we have gone door-to-door to provide impacted residents with information about reimbursement for temporary relocation expenses until pipeline repairs are completed. Property damage claims should be submitted to the homeowner's insurance company, and NTMWD has provided homeowners with contact information for the District's insurance administrator."
Officials said they hope to have the pipeline back in service by Monday evening.