Pizza delivery driver recovering after being carjacked, shot in Central Oak Cliff
DALLAS - A pizza delivery driver will spend the next few months recovering after being carjacked and shot while working in Central Oak Cliff.
Francisco Camacho was delivering a pizza Saturday when an armed man demanding money shot him.
Camacho is still in a lot of pain, he struggles to walk and now lives with a bullet lodged in his hip area. Doctors told him it would do more damage to remove it.
He just delivered pizza to a home on Dancliff Drive on Saturday just after 6 p.m. and was headed back to his car when he noticed a young man in front of his vehicle.
"He said, 'Give me all you have.' I said, 'Stop, stop,'" Camacho said. "When I reach back, and my hand was full of blood, I saw that he had shot me."
A neighbor came out to help and called 911.
"All I saw was him laying on the sidewalk over here, pizza wrapper he carries his pizza in was laying off to the side and he was laying to the side. Obviously had been shot in the left hip," said neighbor Tom Slettebo.
Slettebo says he saw two cars speeding away -- Camacho's stolen blue Nissan Sentra and another car that looked to be a dark-colored sedan.
Camacho says the robber, a young Hispanic man, spoke to him in Spanish and English. He also heard a female voice telling her partner to hurry up.
He believes the suspects targeted him because of the pizza company sign on his car.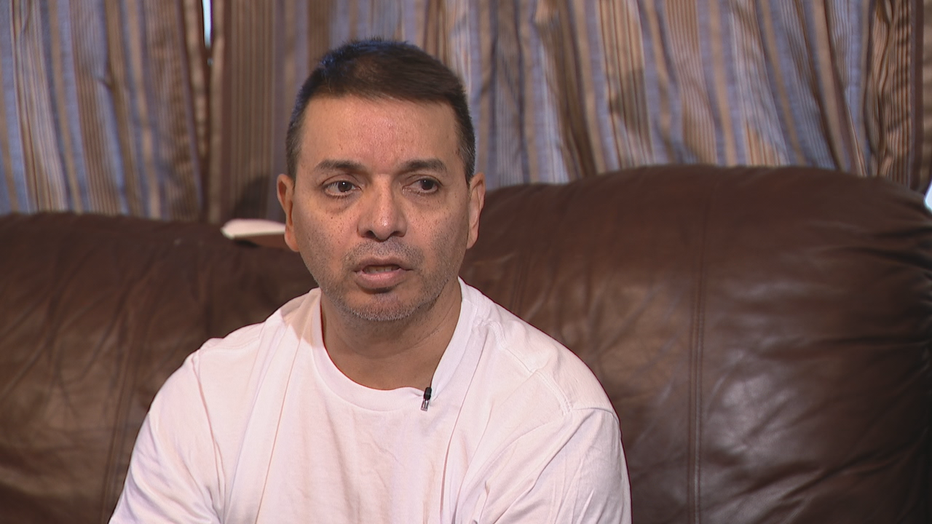 "When I stepped off the porch, the car pulled up... like they had been following me," Camacho said. "I believe they thought I had the money from the pizza sales. They saw the sign and thought I had the money in the car. But I didn't, I had $20 no more."
Now without his car or his ability to work, Camacho says he is still grateful to be alive and already working towards forgiveness for the carjacker who changed his life.
"Think about what you are doing, think of your future. For me, thank god nothing worse happened," Camacho said.
Camacho says the company he worked for delivering pizzas has been supportive, but he's not sure if he'll return to making deliveries.