Grocery stores prepared as more North Texans gather for Thanksgiving this year
DALLAS - Thanksgiving gatherings will be more special for many who have not been able to gather with loved ones in big groups because of the pandemic.
People are excited about being able to celebrate their traditions again.
Most shoppers FOX 4 talked to said they're vaccinated and ready to gather around the table with family and friends they didn't get to see last year.
At the Tom Thumb in Victory Park, the registers were ringing non-stop as a time-honored tradition is back in a big way.
North Texans are heading to the grocery store in near pre-pandemic numbers, doing some last minute shopping for Thanksgiving.
"Now family is really starting to get back together, so I'm excited about that," shopper Dwanna Pimpelton said.
Pimpelton's son is coming home from college this year.
"Just the normalcy of leaving school, being able to travel and then go back," she said.
His one request was mac-n-cheese, and mom is more than happy to indulge him.
"It's his birthday weekend, so of course, no problem," she added.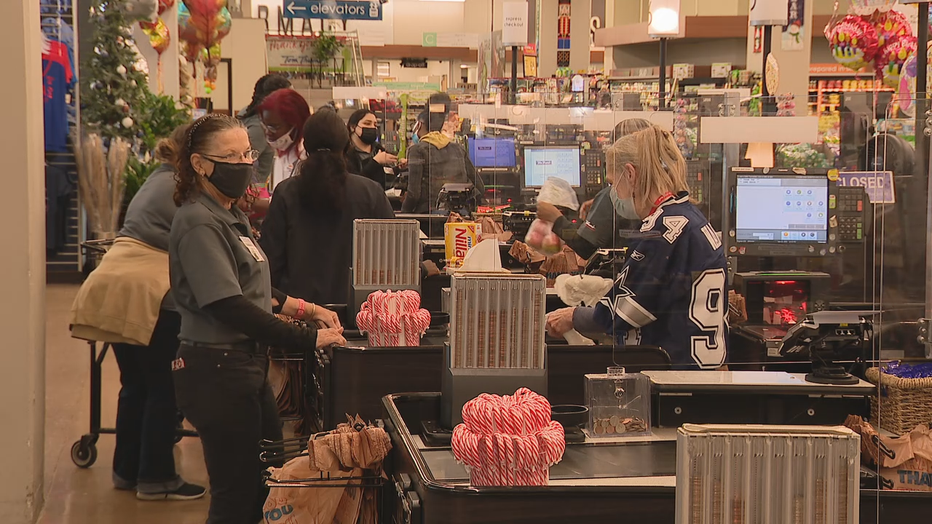 RELATED: Mission Arlington adjusts to Thanksgiving food donation shortage
Store director, Jeff McComber, said despite the supply-chain shortage, Tom Thumb-Albertson was able to stock up on all the essentials, including pies and turkeys.
"We've been extremely blessed," he said. "Our warehouse has been working diligently the last couple of months to make sure they secured enough items."
For many people, the ability to come together this Thanksgiving was cause for a very special celebration.
"COVID is getting under control a little bit, so people are like, 'Man, let's book Chef Benjamin to cook Thanksgiving dinner.' So, hey, business is good," Dallas-based private chef Chef Benjamin said.
He's cooking for some 50 to 60 people, and said he's honored to create such a lavish, yet cherished Thanksgiving meal.
"Seeing is believing. There's a lot of work we need to do over the next six hours," he added.
McComber said, in year's past, grocery shopping around Thanksgiving can make many people anxious and stressed.
He believes getting through the pandemic has made people truly grateful again.
"It's so wonderful to see…Just the spirit of customers alone is amazing this year," he said. "To hear that, from two separate customers, that they got everything they wanted was amazing."
For those who happen to forget something, Tom Thumb stores will be open on Thanksgiving, but on a holiday schedule.
RELATED: No issues for Thanksgiving travelers at DFW Airport, Dallas Love Field