Murder victim found after car crashes into Garland apartment building
GARLAND, Texas - Police are investigating the murder of a 22-year-old man who was found in a car that was on fire after it crashed into a Garland apartment building early Sunday morning.
This happened just before 12:30 a.m., when Garland Fire and Police departments were called out to the Peachtree Square Apartments, in the 4600 block of Saturn Road.
"When it first came out, the first person who called 911 described it as a situation in the parking lot," Garland Police Department officer Matt Pesta said. 
Responding firefighters and officers found a car that had struck an apartment building and was on fire. A couple was fast asleep in the apartment, with no idea what they were waking up to.
Security camera video captured the moment the vehicle crashed into the apartment. You can hear the sound of the engine revving, quickly starting a fire. 
"I just heard the noise the bang bangs outside, and then a bang, and then a very loud noise that really just popped me up," Andy Mullins recalled.
The loud noises woke Andy and Joleen Mullins up. 
Andy was fell asleep on the couch Saturday night. 
"Vrrrrrrrrrrrrrroom it got really, really loud. It got noisier and noisier, and louder and louder. It was smoking everywhere," Andy said.
A cloud of smoke covered Andy's vision. 
A few minutes later, a police officer arrived and told the couple to exit through the back. 
Crews worked to evacuate nearby apartments as the fire spread to the building.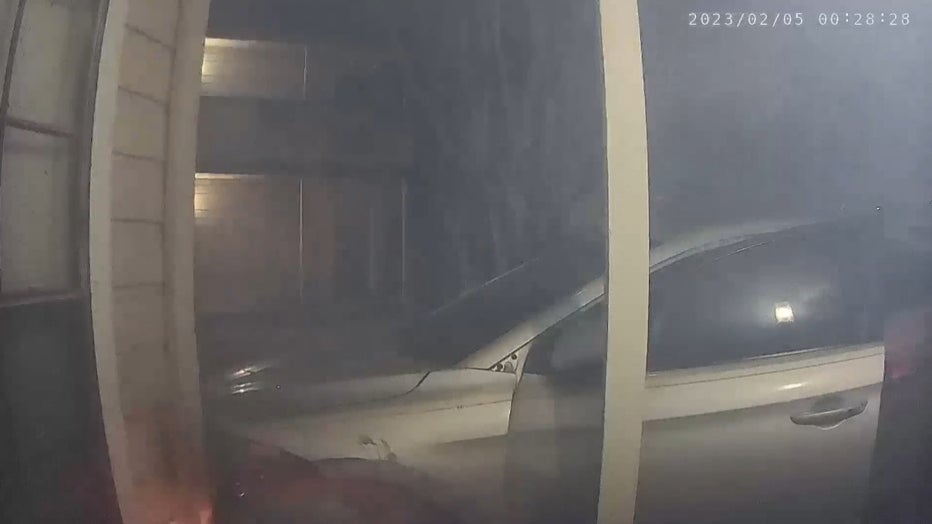 READ MORE: Crash on I-30 in Dallas leaves 1 dead, 1 injured
First responders also found someone inside the car with gunshot wounds.
"I saw somebody jump out of the front seat and then run around the front of the complex and disappeared," Andy recalled.
Officers located a second victim shot in the arm near the crashed car, a 19-year-old man from Fort Worth.
Police said the injured man was knocking on apartment doors trying to get help.
Both were taken to a nearby hospital, where police said Quincy Lee Branch, of Dallas, was later pronounced dead.
"We are just trying to figure out what happened and why these two guys not from Garland were here," Pesta said.
Police said Branch's death is being investigated as a murder.
They don't know exactly where the shooting happened or when the two men were shot.
Investigators believe the suspects took off on foot. 
"Still a little shaken by it," Andy said.
Sunday, tire tracks were still left in the mud outside where the Mullins live. 
Ash and debris were cleaned up outside the home the Mullins have rented for four years.
They'd just had a normal Saturday night, before waking up to a terrorizing event.
No further details have been released as police continue their investigation.