First responders, veterans served a Thanksgiving feast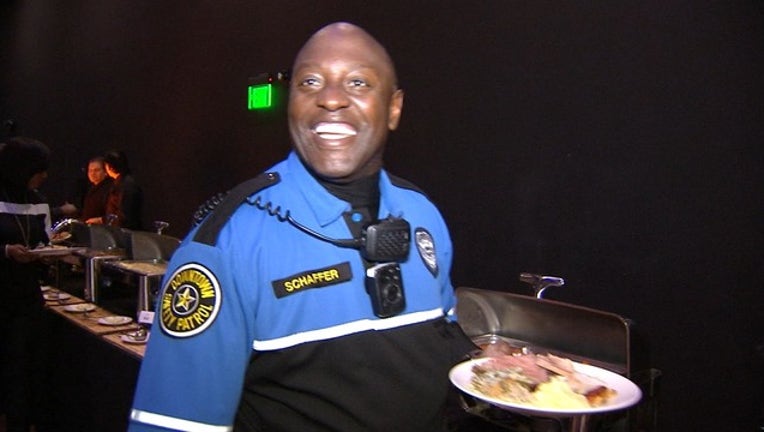 article
DALLAS - First responders, military veterans and their families were treated to a Thanksgiving feast in Downtown Dallas.
The Statler Hotel and the non-profit organization Operation Forever Free served the meal in the hotel's ballroom. Organizers said there is no better time to express thanks for the service and dedication.
"It's very important days like today we don't forget the people that are out protecting us," said Sean Terry with the Statler Hotel. "It's important to pay it forward and I think we lose that sight sometimes around the holidays that some people don't have anywhere to go."
Hundreds enjoyed the complimentary meal with all the trimmings.
"It's great to be appreciated, you know, in times like this. It's just nice to know that there's still people that care," said Michael Elliott, a U.S. Marine veteran.
Elliott thought he was going to spend the holiday alone. Instead, he felt a very warm welcome.
"This is awesome! You know, it's great to know there's people in the community and businesses in the community that support veterans and first responders. My girlfriend had to go out of town today and she didn't want me to be alone today," he said.
Army veteran Carlos Alaniz said he's had some tough times recently and this gathering made his Thanksgiving.
"Things are getting better already. And being here, I am very grateful for the people that put this up. Because, I'd be in my car sitting alone if it wasn't for this," Alaniz said.
The traditional holiday meal was served with a great deal of love and gratitude.
"It's great that there's a lot of people here and that it just felt very welcoming," said U.S. Marine veteran Genevive Wilson.
"What better way to bless people back on Thanksgiving day," Terry added.