Clinton interviewed by the FBI about private email server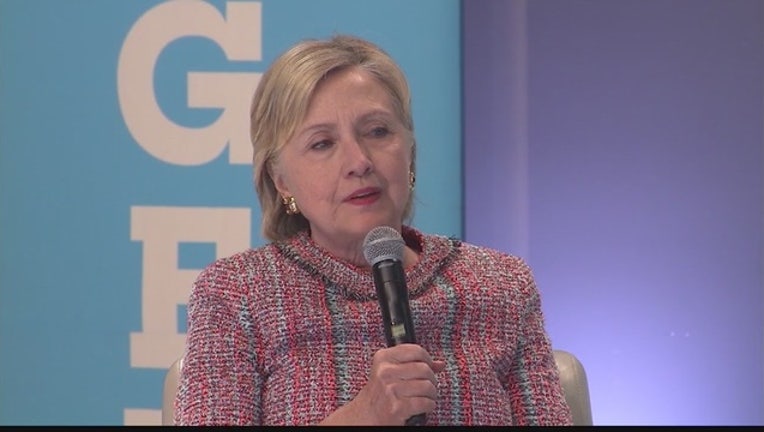 article
WASHINGTON (AP) - Hillary Clinton was interviewed by the FBI about her use of a private email server as secretary of state, her campaign said Saturday, as federal investigators neared the end of the probe that has hung over her White House bid.
Clinton, the presumptive Democratic presidential candidate, gave a voluntary interview for 3 1/2 hours on Saturday morning at FBI Headquarters in Washington, her campaign said.
"She is pleased to have had the opportunity to assist the Department of Justice in bringing this review to a conclusion," Clinton spokesman Nick Merrill said. "Out of respect for the investigative process, she will not comment further on her interview."
Spokespeople for the FBI and the Justice Department declined to comment Saturday.
The interview was expected and it does not suggest that she or anyone else is likely to face prosecution. Some legal experts view criminal prosecution as exceedingly unlikely. The interview may indicate that the Justice Department's yearlong probe is drawing to a close.
But the ongoing investigation represents a major risk for Democrats as Clinton is merely four weeks away from being formally nominated as the party's presidential candidate.
Donald Trump, the Republican Party's presumptive nominee, has seized on the email issue and repeatedly said the probe undermines Clinton's fitness for office. Trump has called his opponent "Crooked Hillary" and said she cannot be trusted in the White House.
The former first lady and New York senator has argued that she is more trustworthy than Trump on handling the issues that matter to most Americans: foreign policy, national security and running the economy.
But the email investigation has lingered throughout her campaign, and Trump has asserted that Clinton will receive leniency from a Democratic administration.
The investigation also poses an unwelcome distraction just as Clinton has vanquished her primary rival, Vermont Sen. Bernie Sanders, holds a huge fundraising advantage over Trump and polls show her well-placed to become America's first female president even as many voters question her trustworthiness.
The questioning came a day after Attorney General Loretta Lynch said that she intended to accept the findings and recommendations of career prosecutors who have spent months investigating the case. Lynch came under scrutiny for an impromptu meeting with Clinton's husband, former President Bill Clinton, on Lynch's plane in Phoenix. Critics said the meeting between Lynch and the ex-president was inappropriate given the investigation even though Lynch and a Clinton spokesman said it was social in nature.
Trump, reacting to the meeting between Lynch and the former president on Friday, said in Colorado: "He opened up a Pandora's Box. And it shows what's going on. And it shows what's happening with our laws and with our government."
While she was President Barack Obama's secretary of state, Clinton exclusively used a private email server for her government and personal emails, rather than the State Department's email system. The Associated Press revealed the existence of the server in March 2015.
Clinton has said relying on a private server was a mistake but that other secretaries of state had also used a personal email address.
The FBI is investigating the potential mishandling of sensitive information. The matter was referred for investigation last July by the inspectors general for the State Department and intelligence community following the discovery of emails that they said contained classified information.
The State Department's inspector general, the agency's internal watchdog, said in a blistering audit in May that Clinton and her team ignored clear warnings from State Department officials that her email setup violated federal standards and could leave sensitive material vulnerable to hackers. Clinton declined to talk to the inspector general, but the audit reported that Clinton feared "the personal being accessible" if she used a government email account.
Agents have already interviewed top Clinton aides including her former State Department chief of staff Cheryl Mills and Huma Abedin, a longtime aide who is currently the vice chairwoman of Clinton's campaign.
The staffer who set up the server, Bryan Pagliano, was granted limited immunity from prosecution by the Justice Department last fall in exchange for his cooperation. The FBI as a matter of course seeks to interview individuals central to an investigation before concluding its work.
The emails were routed through a server located in the basement of Clinton's New York home during her tenure as the nation's top diplomat from 2009 to 2013.
Dozens of the emails sent or received by Clinton through her private server were later determined to contain classified material.
Clinton has repeatedly said that none of the emails were marked classified at the time they were sent or received. As part of the probe, she has turned over the hard drive from her email server to the FBI.
The FBI interview comes as Clinton is set to embark on a major week of her presidential campaign. She will join Obama for their first joint campaign appearance on Tuesday in Charlotte, North Carolina, and Clinton will follow it up with an event on Wednesday in Atlantic City, New Jersey, aimed at undercutting Trump's business practices. On Friday, Clinton will campaign for the first time with Vice President Joe Biden in Scranton, Pennsylvania.
Clinton is considering potential vice presidential choices and preparing to formally receive the Democratic nomination on July 28 at the party's convention in Philadelphia.