Stars bring back Hitchcock as coach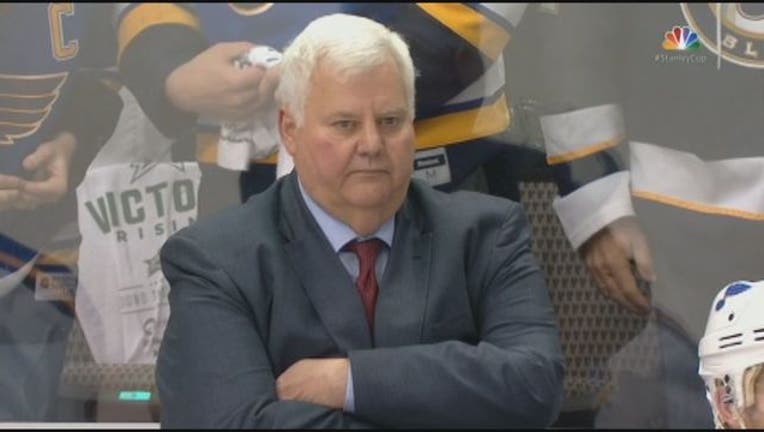 Ken Hitchcock is returning to coach the Dallas Stars, a person with direct knowledge of the situation tells The Associated Press.
The Stars are expected to announce the hire Thusday, but the person confirmed the move on condition of anonymity Wednesday.
Hitchcock won the Stanley Cup with Dallas in 1999, coaching there for parts of seven seasons from 1995-96 through 2001-02. He has since coached the Philadelphia Flyers, Columbus Blue Jackets and St. Louis Blues.
"Congrats Ken Hitchcock on the (Stars) head coach job," 1999 Cup winner and Stars legend Mike Modano tweeted . "My schedule is pretty open."
The 65-year-old was fired as Blues coach in February and replaced by Mike Yeo. Even before that, St. Louis had announced it was Hitchcock's final season there and that Yeo would take over.
Hitchcock replaces Lindy Ruff, who was fired Monday after four seasons in Dallas. The Stars missed the playoffs this year after winning the Central Division last season.
The Edmonton native is fourth on the NHL's all-time wins list with 781, one shy of legendary New York Islanders coach Al Arbour for third. Hitchcock can now pass Arbour back with the team that he led to its only title in franchise history.
Dallas considered former Florida Panthers coach Gerard Gallant and others for its vacancy but went with the affable Hitchcock, whose recipe for success has worked through several eras of hockey.
Good friend and Washington Capitals coach Barry Trotz said he believes Hitchcock will be inducted into the Hockey Hall of Fame one day.
"He's a guy that tries to teach the game," Trotz said. "He's a little bit old-school sometimes because he's demanding and it's funny. When you're demanding with players, they don't like it at the time, but when you go away or there's a change and they come back 10 years later and they go, 'You had it right. I was all wrong.'"
Hitchcock made the playoffs in all five full seasons he coached the Blues, leading them to the Western Conference final last spring. He won the Jack Adams Award as NHL coach of the year in 2011-12 when St. Louis won its first of two division titles during his tenure.
___
More AP NHL: apnews.com/tag/NHLhockey