No. 18 Texas heads to Kansas State looking for rare win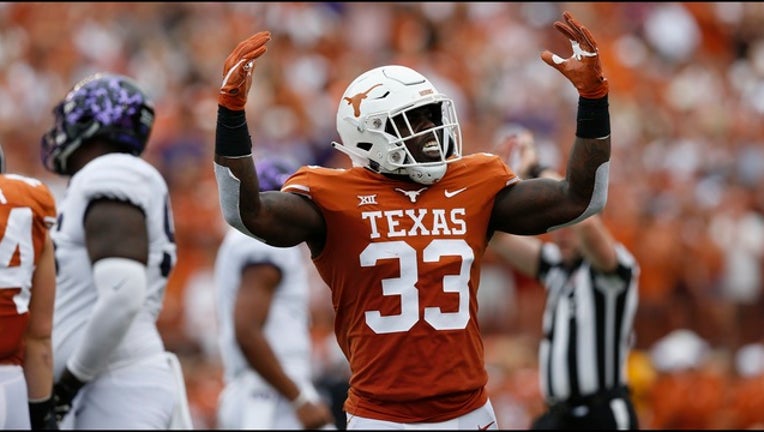 article
MANHATTAN, Kan. (AP) - Collin Johnson is one of handful of players on the Texas two-deep roster that recalls playing at Kansas State two years ago, when the Longhorns suffered the latest in a long string of disappointments.
They've lost five straight to the Wildcats in Manhattan.
That's 16 years of frustration.
Put another way, the Longhorns are on their third head coach since their last win there.
"I played at Kansas State my freshman year. It was tough from what I remember, but nothing this team can't handle," Johnson said. "I love playing away in a hostile environment. It gets me going."
Apparently, the Longhorns tend to get the Wildcats going, because even when Ron Prince was on the sideline during coach Bill Snyder's brief retirement they got the better of Texas.
"Absolutely. Another ranked team coming in, this is definitely a game we need to come out and be at our best," Kansas State wide receiver Zac Reuter said. "We really need to take a big step forward to kind of push our season in the right direction."
Indeed, this may be the best opportunity in years for No. 18 Texas (3-1, 1-0 Big 12) to end their stretch of futility at Kansas State. The Longhorns are coming off back-to-back wins over ranked teams, including a dismantling of TCU last week, while the Wildcats (2-2, 0-1) have been a mess on offense, can't settle on a quarterback and have been just as bad on defense.
Their latest letdown was a lopsided loss at West Virginia last week, where they failed to reach the end zone and allowed the Mountaineers' Will Grier to throw for 356 yards and five scores.
"There is a lot of resilience in this team," Kansas State running back Alex Barnes said. "It's just about us being able to control what we can control and to just come back each and every day and do our best in practice and games. We've got to do a little bit more and we are realizing that."
After a season-opening loss to Maryland, the Longhorns have been doing just that, and now they have an opportunity to end a maddening streak against the Wildcats in Manhattan.
"Thankfully that has nothing to do with this team this year," Longhorns tight end Andrew Beck said. "It's something our guys are aware of but most of our team hasn't played up there."
QUARTERBACK CONUNDRUM
One week after Snyder sounded content moving forward with Skylar Thompson as the No. 1 quarterback, the position is back in flux. Alex Delton spelled the ineffective starter at West Virginia and there are rumblings he could start against the Longhorns.
""I would anticipate both of them would play," Snyder said.
DIVING CATCHES
Texas quarterback Sam Ehlinger has the luxury of throwing to some wide receivers that go to great lengths to get the ball. Devin Duvernay, Joshua Moore and Collin Johnson each have made acrobatic touchdown catches this year. Johnson's came last week on a 31-yard strike that gave the Longhorns the lead against TCU. He has 13 catches for 203 yards the past two weeks.
EFFICIENT EHLINGER
Longhorns sophomore quarterback Sam Ehlinger has cleaned up the turnover problems that doomed Texas in several losses in 2017 and the season opener this year. He didn't have any against Southern California or TCU, and he's 7-of-8 passing on third downs the past two weeks.
"We keep our defense off the field," Ehlinger said. "Staying on the field is huge."
TEXAS PLAY CALLING
Longhorns offensive coordinator and quarterbacks coach Tim Beck stayed in Austin, where he was hospitalized to treat an infection. The school said Beck is expected to rejoin the Longhorns on Sunday but game not further details.
"We'll pull together as coaches, and our offensive staff will call plays collaboratively," coach Tom Herman said.
NO BELLY RUB
Don't expect any on-field celebrating by Texas defensive tackle Chris Nelson. An impromptu belly rub after a big hit against USC prompted other players to start doing it and it carried into last week. But Texas coaches have told Nelson and the Longhorns defenders to shut it down because they don't want a taunting penalty. "I can do it on the sideline," Nelson said.
HALL OF FAMERS
Thorpe Award-winning cornerback Terence Newman and former star linebacker Mark Simoneau will be inducted into Kansas State's Hall of Fame this weekend.
"It's a special honor, and any time we can get young guys that have been in our program recognized in that way, I think it is pretty special," Snyder said. "They are guys that want to see good things happen and continue to happen. They are always there for you if you need them, and they are very deserving of the awards."
___
More AP college football: https://apnews.com/tag/collegefootball and https://twitter.com/AP_Top25.