No. 14 SMU clinches share of AAC title, 93-70 over Tulsa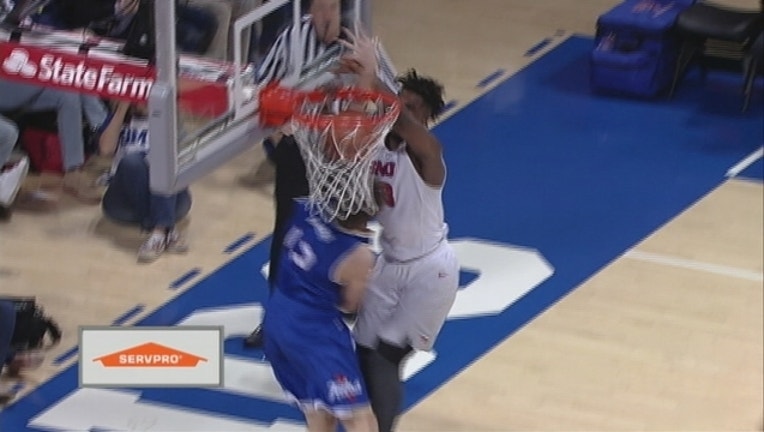 DALLAS (AP) - Semi Ojeleye was perfect from the field, and yet SMU's big man was more impressed with Shake Milton's play from a sitting position that set up one of the Mustangs' highlight alley-oops while they clinched at least a share of the American Athletic Conference title.
Milton maintained control of the ball after tripping just past midcourt, even dribbling between his legs while sitting on the court . Still on his rear end with defenders around him, Milton then passed to Sterling Brown, who delivered the alley-oop to Ojeleye in the Mustangs' 93-70 victory over Tulsa on Thursday night.
"I saw him. I kind of lost my mind, he's just on the ground cool as a cucumber," said Ojeleye, the former Duke transfer who had 26 points. "That's Shake for you."
Milton said his spectacular dribbling just happened in the heat of the moment.
"But the play that (Ojeleye) made afterward, and SB's pass, that was just crazy," said Milton, who had his first career double-double with 15 points and 10 assists, even without getting any actual stats for the highlight play.
Ojeleye made all nine of his field goal attempts, including a couple of highlight dunks and three 3-pointers, and all five starters scored in double figures for the Mustangs (26-4, 16-1). Jarrey Foster added 18 points on 9-of-11 shooting with a couple of slams of his own, while Brown had 19 points and Ben Moore 12 .
The Mustangs have a 12-game winning streak and a one-game lead in the AAC standings over No. 18 Cincinnati (26-4, 15-2), which won its home finale 65-47 over Houston earlier Thursday night. They can take the league title outright with a win at home Saturday over Memphis.
"This was a big night for me," coach Tim Jankovich said. "I didn't want to go into Saturday with the pressure that maybe if we had played poorly or whatever tonight. I know that we've only guaranteed a share, but you can't take that away from them."
Corey Henderson had 17 points for Tulsa (14-15, 8-9) and Junior Etou had 13.
After building a 19-point halftime lead, the Mustangs had a 14-2 run early in the second half that included Milton's consecutive alley-oop passes - to Ojeleye and Foster - before the guard hit a 3-pointer from the left corner. That was a few minutes before the under-the-leg dribble.
"Shake's pretty darn good," Jankovich said. "He can make some passes that make you shake your head, no pun intended. Nothing he does surprises me."
Even when Milton is sitting on the court.
BIG PICTURE
Tulsa: The Golden Hurricane went into this season after graduating nine seniors and with only three players who had played in a game for them. It's been an up-and-down third season in Tulsa for coach Frank Haith, whose team had won its previous two games after a six-game losing streak. Tulsa had a surprising 6-2 start in conference play before that.
SMU: The Mustangs shot 60 percent (33 of 55) in their highest-scoring game of the season. ... Jankovich still hasn't lost in 24 home games as SMU's coach - all 17 this season and seven in the past when filling in for Larry Brown, the Hall of Fame coach who was in attendance Thursday night. This is the Mustangs' fourth year in the AAC. They won the regular-season title in 2015.
AVENGING LAST MOODY LOSS
The Mustangs have won 21 consecutive home games since losing to Tulsa in February 2016. "We knew they were the last team to win here in Moody," Ojeleye said. "But all year, we set a goal to win a conference championship. It didn't really matter who it was tonight, we wanted to win this game. It happened to be them."
UP NEXT
Tulsa: Closes the regular season at Tulane.
SMU: Tries to clinch outright AAC regular season title in home finale Saturday against Memphis.
___