Murray throws for 6 TDs as No. 6 Oklahoma routs Baylor 66-33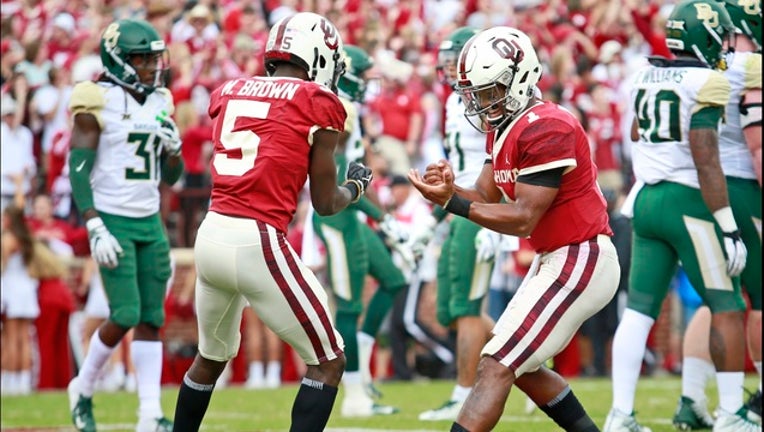 article
NORMAN, Okla. (AP) - Kyler Murray didn't even start Saturday, yet his performance will go down in the Oklahoma history books.
Murray didn't set his alarm clock properly Thursday night so he was late to practice on Friday, meaning he couldn't start against Baylor because of team policy. He sat out the Sooners' first offensive series, then came on to pass for career highs of 432 yards and six touchdowns and helped No. 6 Oklahoma defeat the Bears 66-33. Murray also ran for a touchdown.
Murray matched Baker Mayfield's school record by accounting for seven touchdowns in a game, and his efficiency rating of 348 was a school record.
"He handled the situation before the game well," Oklahoma coach Lincoln Riley said. "Didn't freak out like I'm sure the rest of America did. It was what it was."
Oklahoma (5-0, 2-0 Big 12) received the opening kickoff and converted one first down with Austin Kendall at quarterback before punting. Baylor muffed the punt, and Oklahoma recovered at the Baylor 10. On the second play, Murray found Lee Morris for a 9-yard touchdown pass.
"I just tried to go in there, wasn't thinking about it too much," Murray said. "Didn't let it affect me. We had a good game."
Marquise Brown caught five passes for 132 yards and two touchdowns, CeeDee Lamb had 101 yards receiving, Kennedy Brooks ran for 107 yards and two touchdowns and Morris caught two touchdown passes for the Sooners.
Lamb can't believe some of the plays Murray is making.
"I haven't seen anybody else do it better," Lamb said. "He surprises me every week, just like he surprises y'all. I promise."
It was reminiscent of Oklahoma's win over West Virginia last year. Murray started in Mayfield's place because of a gesture Mayfield made against Kansas. He then stepped in and dominated as Oklahoma rolled to a 59-31 win.
Charlie Brewer passed for 400 yards and two touchdowns for Baylor. Denzel Mims had 11 catches for 114 yards and a touchdown and Jalen Hurd added nine catches for 104 yards and had a receiving touchdown and a rushing score for the Bears (3-2, 1-1).
Murray completed 10 of 11 passes for 192 yards and four touchdowns in the first half to help the Sooners take a 28-9 lead. Baylor scored on its first possession of the second half to cut Oklahoma's lead to 28-16, but Lamb turned a third-down screen pass from Murray into an 86-yard touchdown.
Murray threw a 50-yard touchdown pass to Brown later in the third quarter, then scored on a 1-yard quarterback sneak on an untimed down on the last play of the period to put the Sooners up 49-23.
"Our hats are off to Oklahoma and Lincoln Riley," Baylor coach Matt Rhule said. "I think our guys saw what a championship-caliber team does. When we're looking to make a game of it, there at the end of the second quarter and beginning of the third, I think you saw us coming after them. They made the plays needed."
THE TAKEAWAY
Baylor: The Bears had gotten off to a pretty good start this season, but they hadn't played a team quite the caliber of the Sooners. They struggled to stop Oklahoma's receivers after the catch.
"They got the ball in space to their guys, and we just weren't able to tackle them and get them down," Rhule said.
Oklahoma: The Sooners escaped with a 28-21 overtime win over Army last week, and the team had heard enough about how Army controlled much of the contest. Oklahoma was dominant on offense against Baylor and did a better job of making plays defensively.
POLL IMPLICATIONS
Oklahoma looked more like the dominant team that opened the season. The Sooners might not move up in the poll , but they likely solidified their current position.
STRONG FOLLOW-UP
Oklahoma linebacker Kenneth Murray set a Football Bowl Subdivision record with 28 tackles against Army last Saturday. He followed that by tallying a team-high 17 against Baylor. Linebacker Curtis Bolton, who had 23 tackles against Army, had 16 against Baylor.
HURD THAT
Hurd had a career-best reception total, making it the third big game of his career against the Sooners. He had two before he transferred from Tennessee. Back in 2014, he ran for 97 yards and had 24 yards receiving. In 2015, he ran for 106 yards and a touchdown.
PILING ON
Oklahoma posted its highest point total since a shootout between Mayfield and Texas Tech quarterback Patrick Mahomes in 2016. That day, Mayfield completed 27 of 36 passes for 545 yards and set the school record with seven touchdowns in a 66-59 win. Mahomes passed for 734 yards and five touchdowns and ran for 85 yards and two more scores. Mayfield now starts for the Cleveland Browns and Mahomes starts for the Kansas City Chiefs.
UP NEXT
Baylor hosts Kansas State on Saturday.
Oklahoma plays Texas in Dallas on Saturday. This will be the first time since 2015 that the Sooners enter the rivalry game undefeated.
___
Follow Cliff Brunt on Twitter: www.twitter.com/CliffBruntAP
___
More AP college football: https://apnews.com/tag/Collegefootball and https://twitter.com/AP_Top25