1 firefighter killed, 2 seriously hurt in San Antonio fire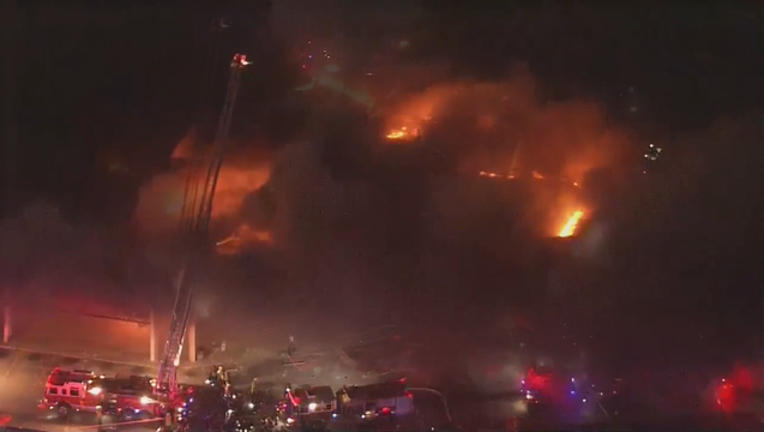 SAN ANTONIO (AP) - A San Antonio firefighter was killed and two others were seriously hurt while battling a blaze at a strip mall that grew so intense that fire crews were forced to retreat as parts of the building collapsed.
Fire Chief Charles Hood said firefighters entered the mall Thursday night to ensure no people were inside the various businesses and also to attack flames from the interior. But firefighters were forced to pull back as the building weakened, he said.
Authorities learned that one firefighter, Scott Deem, was missing and Hood said he became trapped inside. The six-year department veteran was later found dead among the debris.
About 100 firefighters stood in salute as an ambulance carried away his body early Friday.
"It was a very rough decision to leave a firefighter behind," an emotional Hood told reporters who gathered at the scene northwest of downtown. "That is not what we do, but we had the risk of losing probably an additional 15 to 20 firefighters if we did not go defensive on this fire."
"We have firefighters that fought desperately tonight to try to save their friend's life," Hood said.
There were at least four businesses operating out of the strip mall. Deem's body was found amid the ruins of a gym, Hood said at a later news conference. He said the order to have firefighters evacuate the structure knowing that Deem was still missing was "the most difficult decision of my life."
Deem, 31, was the father of two children and his wife is pregnant with their third.
Another firefighter suffered critical injuries and a second was seriously hurt, officials said.
"We are anticipating both of these firefighters are going to be OK, but we're asking for your prayers," the chief said.
Investigators have not said what caused the fire.
Gov. Greg Abbott said in a statement that he and his wife Cecilia extended their sympathies to Deem's family "during this unimaginably difficult time."
"Those who put their lives on the line to serve others deserve our deepest respect, and we can never say thank you enough," he said.
The last San Antonio firefighter to die on duty was in 1997 when one suffered a heart attack while battling a fire, the San Antonio Express-News reported.