Yanks rout A's 7-2 in wild-card game, set up ALDS vs Red Sox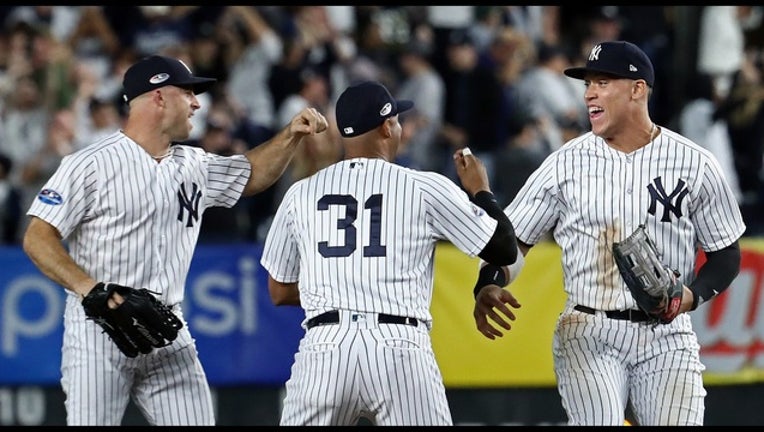 article
NEW YORK (AP) - Aaron Judge got the party started with a two-run homer nine pitches in. Luis Severino let out a primal scream after escaping a bases-loaded jam with 100 mph heat. Giancarlo Stanton capped the mauling with monstrous drive in his postseason debut.
From the first inning on, there was little doubt. Next stop for the Yankees: Fenway Park and the rival Red Sox.
Going ahead quickly against reliever-turned-starter Liam Hendriks, the Yankees pounded the Oakland Athletics 7-2 Wednesday night to win their second straight AL wild-card game.
Severino atoned for flopping in his postseason debut last year, and late-season spark Luke Voit added a two-run triple off Blake Treinen in a four-run sixth, missing a home run by inches. Stanton added 443-foot drive off the Oakland closer in the eighth that landed in left field's second deck, completing a power show by the team that set a major league record for most home runs in a season.
After one of those boisterous Bronx celebrations that used to be an October staple, the Yankees will take a train to Boston for a best-of-five Division Series starting Friday, a matchup of 100-win heavyweights. By the late innings, the sellout crowd was chanting "We want Boston!"
The Red Sox went 10-9 against the Yankees this year.
For Oakland, it the latest disappointing defeat in what has stretched into decades of disappointment. The A's have lost eight straight winner-take-all postseason games since beating Willie Mays and the New York Mets in Game 7 of the 1973 World Series, and dropped all four of their postseason matchups against the Yankees.
New York became the first team since the 2001 A's to reach triple digits in wins and fail to finish first - the Red Sox set a team record with 108 victories.
Yankees fans fretted about an all-or-nothing knockout match, thinking back to last year when Severino fell behind Minnesota 3-0 just 10 pitches in. New York rallied for an 8-4 win against the Twins, but the memory was still raw.
Severino was 14-2 at the All-Star break this year but slumped badly in the second half, and rookie manager Aaron Boone's decision to start the 24-year-old right-hander against the A's instead of J.A. Happ or Masahiro Tanaka was intensely debated - the type of argument Boone used to enjoy as a television analyst who broadcast last year's wild-card game.
Severino made the move look like genius. He threw nine fastballs in a 10-pitch first inning, then relied on sliders and chanegups. He struck out seven his first time through the batting order, got in trouble in the fourth before striking out Marcus Semien on his fastest pitch of the night - 99.6 mph at the letters. He showed his emotion and looked spent despite not having allowed a hit.
And he was.
Jonathan Lucroy and Nick Martini singled leading off the fifth, and Boone signaled for Dellin Betances to relieve.
This time, he had a no decision to savor.
Betances retired Matt Chapman on a liner to right and Jed Lowrie on a fly to center, then struck out big league home run champion Khris Davis with a slider. Betances gleefully backpedaled off the mound.
New York opened a 6-0 lead in the bottom half. Judge started it with a double - his grounder hit about a foot foul just beyond the batter's box, then twisted fair down the line. Aaron Hicks followed with another doubles off Fernando Rodney.
After Treinen walked Stanton, and Voit hit an opposite-field drive to right, thinking it was a home run and raising his right arm at the plate. He chugged into third with his first big league triple and let loose with a holler.
The burly Voit tumbled across the plate, actually making a nifty slide, to just make it home on Didi Gregorius' sacrifice fly.
Betances (the winner) pitched a perfect sixth and David Robertson a 1-2-3 seventh. Davis hit a two-run homer off Zach Britton in the eighth, and Aroldis Chapman finished the five-hitter.
Oakland was a little engine that could, coming off three straight last-place finishes and last in opening-day payroll before creeping up to 28th following midseason acquisitions to bolster its injury devastated pitching staff. The A's managed to win 97 games despite a half-dozen starting pitchers getting hurt.
Short on options, A's managed Bob Melvin opted for baseball's latest fad: starting a reliever.
Hendriks, coming off seven straight shutout starts of one inning in September following his return from the minor leagues, walked Andrew McCutchen leading off, and Judge drove a fastball over the left-field scoreboard.
Hendriks (the loser) had not allowed a home run since June 24, the night before he was cut from the major league roster.
It was just the second home run since July 21 for Judge, who missed seven weeks with a broken right wrist before returning in mid-September. He joined Reggie Jackson as the only Yankees to hit four home runs in their first seven postseason home games for New York.
___
More AP MLB: https://apnews.com/tag/MLB and https://twitter.com/AP_Sports