Texas Tech tried to get defensive this spring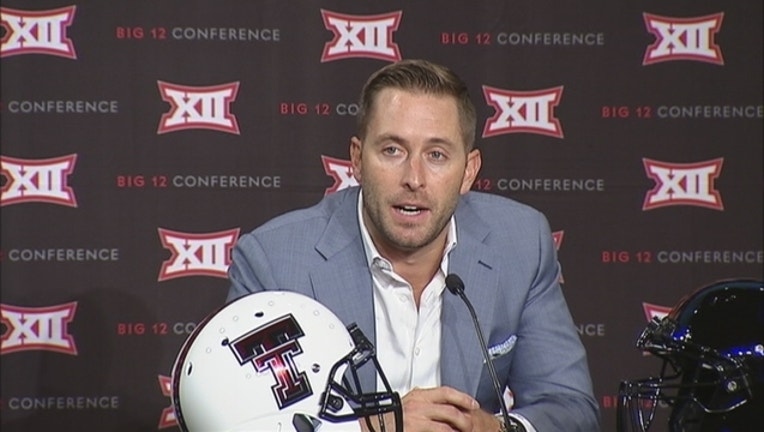 LUBBOCK, Texas (AP) - Scoring points has never really been an issue for Texas Tech under coach Kliff Kingsbury. It hasn't really been a problem for their opponents, either.
The Red Raiders had the nation's worst defense last season, allowing 43.5 points and 554 total yards per game. Both of those totals were dead last among the 128 FBS teams, the yardage nearly 35 more per game than Arizona State at 127th.
Four junior college transfers on defense, three of them defensive backs, have already provided a boost in spring practice and made an impact in their two off-campus scrimmages. Spring practice wraps up Saturday night with another scrimmage at home.
"Lots of competition," junior defensive back Jah'Shawn Johnson , the team's second-leading tackler last season, said of the secondary transfers. "They're all flying around. Making plays on the ball. They're all aggressive on the run game. They all can tackle."
With dual-threat quarterback Patrick Mahomes, who has since left for early entry in the NFL draft, Tech led the nation with 565 total yards and 43.7 points per game. The Red Raiders scored 524 total points during a 5-7 season, and gave up 522 points.
Along with those junior college defensive backs - Vaughnte Dorsey (Mississippi Gulf Coast CC), Octavious Morgan (Butler County CC) and Jaylon Lane (Independence CC) - the Red Raiders are also anticipating the return of linebacker Dakota Allen. He was Tech's second-leading tackler as a redshirt freshman in 2015 before getting kicked off the team because of an off-field incident and then going to East Mississippi Community College. He led East Mississippi with 117 tackles last season.
Red Raiders linebacker coach and recruiting coordinator Zac Spavital is hopeful that Allen, who signed again with Texas Tech, will be back on campus in June.
"And then we can get him full speed ahead," Spavital said. "We still got to get some installs with him. But the good thing is he's got the foundation."
That's not necessarily the case for all those junior college transfers who are new to the program, including linebacker Tony Jones from Butler County CC.
"They have to get used to the speed of the game and the effort that you have to play with," Spavital said. "That is not the issue with (Jones). He will run to the football. He knows how to tackle the ball. He knows where it's at. Right now we're just grinding through the mental parts."
Kingsbury, a former Red Raiders quarterback, is going into his fifth season as head coach. He has a 24-26 record despite all the big offensive numbers because they also give up so much.
Texas Tech has averaged 38.8 points a game in his four seasons, and allowed 39.6 points a game in the same time. The offense has gained 540 total yards a game, and their opponents have averaged more than 507 a game.
"The biggest improvement on this defense will be our secondary," said David Gibbs, going into his third season as defensive coordinator. "It's not because of anything other than you'll see some players out there who can actually play football. And it makes the other guys play better than they used to play."
___
More AP college football: www.collegefootball.ap.org and https://twitter.com/AP_Top25