Rangers 3B Beltre close to 3,000 hits, really wants 1 ring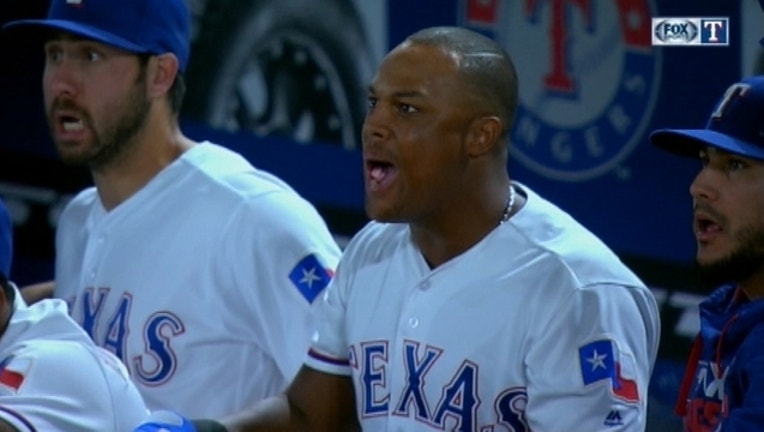 ARLINGTON, Texas (AP) - Adrian Beltre goes into his 20th major league season only 58 hits shy of joining the 3,000 club. He was a .300 hitter again last year, when he also won his fifth Gold Glove.
Even with all those impressive numbers, the Texas Rangers third baseman really only wants one thing at this point in his career: a ring.
"If we win the World Series this year, maybe, maybe I won't ever come back here," said Beltre, who turns 38 next week and is signed through 2018. "That's the only thing that I wanted to accomplish that's going to keep me going every morning."
The Rangers have won the AL West the last two seasons, but have been trying to get back to the World Series since 2011, when they were twice within one strike of winning it all before falling short as AL champions for the second year in a row. That was Beltre's first season in Texas, and his only Fall Classic.
Beltre and the Rangers thought they were in great shape for another chance last year after winning an AL-high 95 games, and going into the playoffs with aces Cole Hamels and Yu Darvish perfectly aligned for the postseason.
They instead got swept in the AL Division Series in another strange season ending against Toronto.
Texas still has Darvish and Hamels, but will open the season without offseason additions Andrew Cashner and Tyson Ross. The Rangers knew Ross would still be recovering from thoracic outlet syndrome, but Texas native Casher had a biceps issue in spring training that put him behind schedule.
Mike Napoli, another member of the 2011 World Series team, is back with the Rangers after winning a World Series with Boston in 2013 and being with AL champion Cleveland last season. Napoli takes over at first base after Mitch Moreland left in free agency, as did Ian Desmond after his All-Star season in Texas.
Carlos Gomez, who finished 2016 surging with the Rangers after his August release from Houston, re-signed and will replace Desmond in center field, the position where Gomez was a two-time All-Star in Milwaukee. Jonathan Lucroy is a former All-Star catcher with the Brewers who got traded to Texas last August, and is signed through this season.
"I like it here and I want to enjoy the team for the full season," Gomez said. "I'm in the right place to be part of something special."
Some things to watch with the Rangers in 2017:
OPTIONAL TRIO: Jurickson Profar, Ryan Rua and Delino DeShields went to spring training as options to play left field. They all could see time there, and at other positions, too. Profar started at five different positions last season, Rua can play first base and the speedy DeShields can play all outfield spots. All that versatility gives manager Jeff Banister a lot of options, and might allow the Rangers to start the season with more pitchers and a shorter bench.
NEW LOOK: Cashner, who signed a $10 million deal in November, and Ross could eventually fill out the rotation that also includes young left-hander Martin Perez, 10-11 in 33 starts last season. Right-hander Colby Lewis and left Derek Holland are gone after being with the team since its World Series seasons in 2010 and 2011. The position players will be familiar. This is Napoli's third stint with the team, and everybody else returns from last season.
STILL IN THE BUILDING: Elvis Andrus is the only player remaining on the roster from the Rangers' first World Series in 2010. The 28-year-old shortstop is going into his ninth major league season. He hit .302 with eight homers and 69 RBIs last year, all career highs.
ROOKIE TO WATCH: A Rule 5 pick last winter, 27-year-old right-hander Mike Hauschild made himself a solid option to start the season in the rotation or be a long man in the bullpen.
___
More AP baseball: https://apnews.com/tag/MLBbaseball