3 SMU players look to make the leap in NBA Draft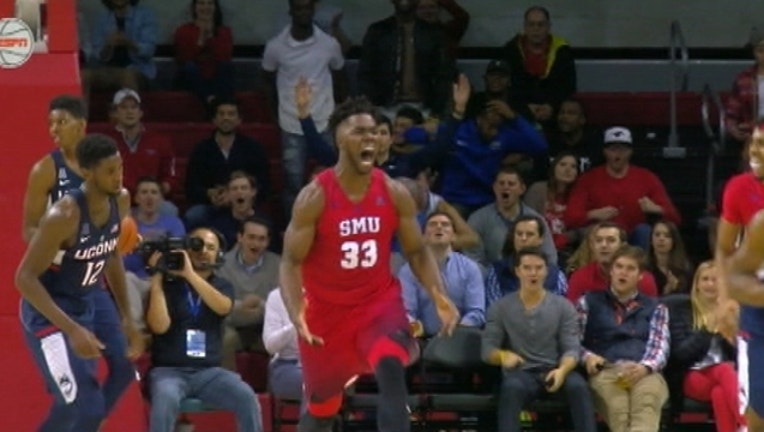 Three former SMU basketball players are hoping to hear their names called at the NBA Draft Thursday.
Semi Ojeleye, Sterling Brown and Ben Moore are coming off a season in which the Mustangs won the regular season American Athletic Conference championship and the AAC Tournament, before losing to USC in the first round of the NCAA Tournament. All three players put together impressive campaigns, contributing to the Mustangs' success.
Junior forward Semi Ojeleye has the best chance of getting drafted among the three players.
Ojeleye, who transferred to SMU from Duke, demonstrated an impressive offensive arsenal last season. He used his shooting, athleticism and strength to dominate competition en route to winning the AAC Player of the Year award. Ojeleye averaged 19 points per game and 6.9 rebounds on an efficient 48.7% shooting, emerging as the Mustangs' go-to option on offense.
Ojeleye declared for the draft in May, forgoing his last year of college eligibility. NBA Draft experts project Ojeleye to go in the late first round or early second round. NBA Draft Express predicts that Ojeleye will be picked 24th overall by the Utah Jazz. Among the teams Ojeleye has worked out for before the draft are the Indiana Pacers, Phoenix Suns (twice), Toronto Raptors, Utah Jazz, Los Angeles Lakers, Sacramento Kings, Atlanta Hawks and Brooklyn Nets.
Guard Sterling Brown's all-around game could have him picked in the second round of the draft. Brown developed into a consistent 3-point shooter at SMU, shooting 3s at a 44.9% clip during his senior season at SMU. Brown was a complete player in college, averaging 6.5 rebounds, 3 assists and 1.4 steals to go along with his 13.4 points per game.
Most mock drafts see Brown being picked towards the middle of the second round. NBA Draft Express has brown being picked 45th overall by the Houston Rockets. He has worked out for the Suns, Lakers, Nets, Charlotte Hornets, Orlando Magic, Milwaukee Bucks, Memphis Grizzlies, Los Angeles Clippers, Philadelphia 76ers and Golden State Warriors.
Senior forward Ben Moore is the least likely of the three to get drafted. Moore did not put up gaudy numbers at SMU last season, just 11.4 points and 7.8 rebounds per game, but he did what he was asked to do on both ends of the floor.
Moore's name does not appear in most mock drafts, but he was just featured in an article by The Ringer's Kevin O'Connor as an under-the-radar prospect. The Ringer's mock draft sees Moore being taken by the Atlanta Hawks with the final pick of the draft. Moore has worked out for the Warriors, Pacers, Magic, Bucks, Lakers, Washington Wizards and Dallas Mavericks.
If any of these players do not get drafted, they could still get a look from an NBA team as an undrafted prospect.
An SMU basketball player has not been drafted since Jeryl Sasser was picked by the Magic in 2001, although former Mustang Quinton Ross played in the league for seven seasons.
The NBA Draft starts at 6 p.m. CDT on June 22. It will be broadcast by ESPN.