Trump: GOP bill will push insurance costs 'down, down, down'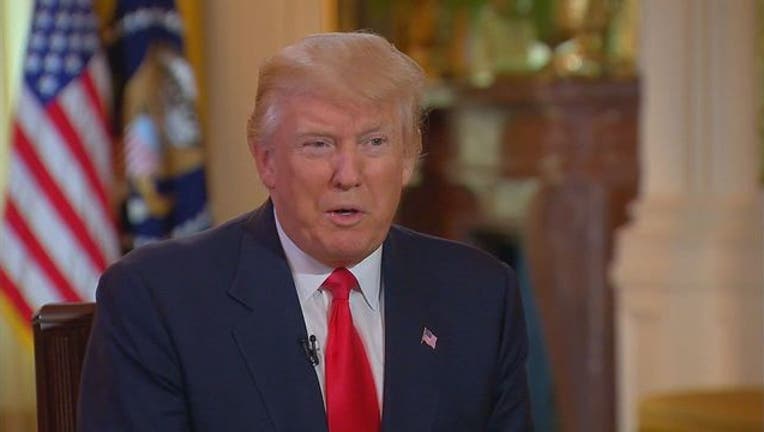 WASHINGTON (AP) - President Donald Trump sought to highlight complaints about the Obama health care law Monday, including a gripe of his own, that the law is "a disaster" but that the media makes it look "wonderful."
"The press is making it look so wonderful, so that if we end it, everyone's going to say, 'Remember how great Obamacare used to be?'" Trump said as he welcomed people affected negatively by the law to the White House for a listening session.
"It's a little bit like President Obama," the president added. "When he left, people liked him. When he was here, people didn't like him so much. That's the way life goes. It's human nature. The fact is, Obamacare is a disaster."
The meeting came as Republicans awaited a Congressional Budget Office analysis widely expected to conclude that fewer Americans will have health coverage under a House Republican plan to "repeal and replace" the Affordable Care Act. Trump praised the plan, which has encountered resistance from critics within the GOP.
"We're not going to have one-size-fits-all," Trump said. "Instead, we're going to be working to unleash the power of the private marketplace to let insurers come in and compete for your business. And you'll see rates go down, down, down and plans go up, up, up."
The president solicited comments about the Affordable Care Act at the meeting, which also was attended by Vice President Mike Pence, Health and Human Services Secretary Tom Price and Gary Cohn, Trump's chief economic adviser. Participants, a group that included small business owners and doctors, roundly criticized the bill, saying their costs had increased and that getting care was a challenge.
"Our rates are three times what they were before Obamacare started. We have one provider in our county," said Carrie Couey of Colorado. "We're a small business owner. We are cattle ranchers. We can't afford our equipment if we're paying these rates year after year after year."
Other attendees echoed those sentiments. Kim Sertich of Arizona said she has currently has no health insurance because costs went up so much. "It didn't seem like a good use of my money," she said, adding that she is now in a "faith-based share program."
Hospitals, doctors and consumer groups have come out against the House Republican plan. Critics say the cuts to Medicaid and other programs mean people will lose insurance and that coverage could get more expensive.
At the close of the meeting, Trump was asked about his message to people who are concerned about losing their health insurance. He said "it will get better."
Amid the serious stories, there was one lighter moment. Greg Knox of Ohio brought Trump a note from his son, written on the back of a homemade picture of the president's face. Trump held it up and smiled, saying, "I wish I looked that good."