SMU students upset about proposed changes to The Boulevard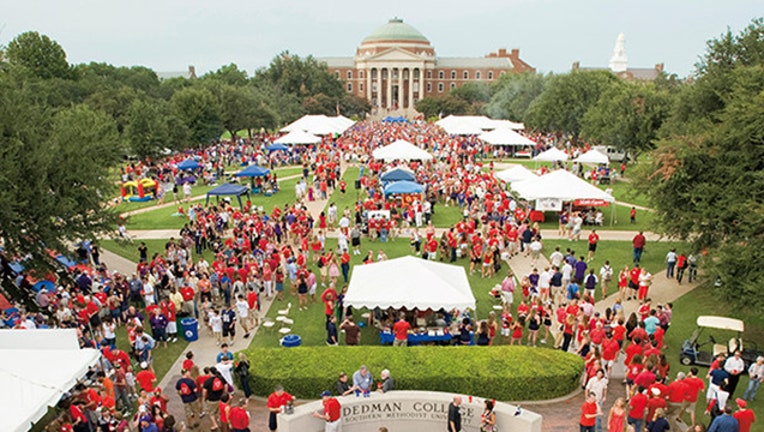 SMU's football tailgating scene will likely be less rowdy if proposed changes from the school go into effect for 2017.
According to a letter sent by Greek student leaders to campus administrators, students at Greek-sponsored tents would be kept in a fenced in area and students would buy individual beers through a school-approved vendor.
It would be a drastic change from current policy where students are free to roam The Boulevard, beverage in hand, with other fans and alumni. Beer has previously been purchased and provided by the Greek organizations and monitored by an officer. Students received wristbands to drink after an ID check.
When asked to comment, SMU officials told FOX4: "SMU is moving toward alcohol sales in the Boulevard section used by all student organizations. We have been meeting with students to discuss this issue and their concerns, and will continue to do so."
The Boulevard is often one of the busiest places to be in Dallas on Saturday during college football season, with crowds there sometimes seemingly bigger than the ones that make it into SMU's Ford Stadium.
Greek student leaders unhappy with the proposed changes said in their letter they would boycott the football tailgate if the new rules went into effect.
"The steep beverage prices, as well as the controlled drinking area, would deter members and others from approaching," the Greek leaders' letter to administrators said. "It would be extremely disappointing if SMU lost one of its best traditions due to the implementation of these rules."
The Boulevard tailgating setup is modeled on Ole Miss' The Grove and has been a part of SMU gameday since football returned to an on campus stadium in 2000.
SMU's first home game of 2017 is Saturday, Sept. 2 vs Stephen F. Austin.