Protesters chase after indicted Texas deputy and husband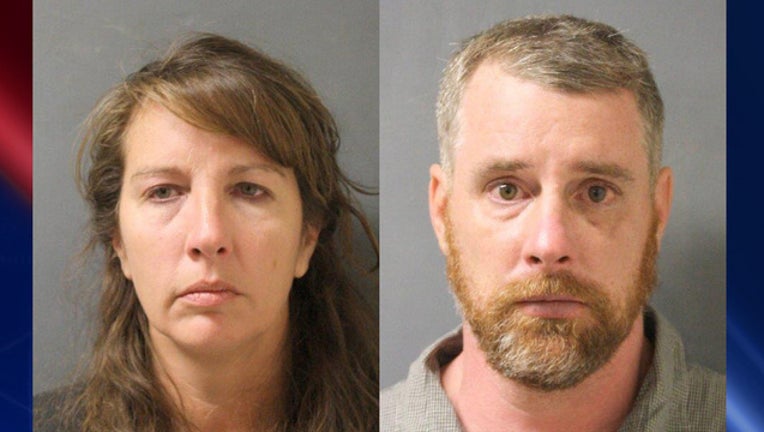 HOUSTON, Texas - Dozens of protesters chased after a Houston-area sheriff's deputy and her husband following their court appearance Tuesday on murder charges in the death of a man they confronted outside a restaurant.
At one point, the protesters surrounded the car the couple entered outside the courthouse and temporarily blocked it from driving off.
Attorneys for Harris County Sheriff's Deputy Chauna Thompson and her husband, Terry Thompson, said Tuesday prosecutors rushed to present the case to a grand jury and did so because of the couple's ties to law enforcement.
The couple is accused of causing the death of John Hernandez, 24, who died three days after the May 28 confrontation outside a Denny's restaurant in Sheldon, located 17 miles (27 kilometers) northeast of Houston.
The couple made their first court appearance in the case Tuesday since each was indicted for murder last week. The Thompsons said little during the hearing and didn't enter pleas. Chauna Thompson has been suspended from her job without pay.
About 60 protesters were outside the courthouse during the hearing, some holding signs saying, "Justice for John."
When the Thompsons left the courthouse and walked to a waiting car, protesters followed, with many chanting "murderers" in Spanish. Some protesters slammed their fists on the hood or kicked the sides of the vehicle.
Deputies had to move the protesters so the car could drive away.
Ramon Hernandez, John Hernandez's 73-year-old grandfather and who was one of the protesters on Tuesday, said he's upset how the case has been handled, believing the Thompsons have received special treatment.
"Nobody does anything. They are protecting them. That's why I feel bad," he said in Spanish.
But attorneys for the Thompsons contend the deputy and her husband have been treated unfairly in the case.
"My client probably would not be indicted but for her job title," attorney Greg Cagle, who represents Chauna Thompson, 45, said following the hearing.
Attorney Scot Courtney, who is representing Terry Thompson, 41, said he's "never seen a case taken to a grand jury this quickly."
The Harris County District Attorney's Office denied the claims, saying prosecutors are dedicated to an orderly process in the case.
Authorities allege Terry Thompson confronted an intoxicated Hernandez after seeing him urinate in public and placed him in a chokehold. Chauna Thompson, who was off duty at the time, arrived later to help her husband subdue and restrain Hernandez. Cagle contends that Chauna Thompson barely touched Hernandez.
Hernandez was hospitalized and died on May 31. A medical examiner ruled that he died of lack of oxygen to the brain caused by strangulation and chest compression.
The Thompsons, who are each free on $100,000 bonds, will next be in court on July 14.
Hernandez's family late Monday filed a wrongful death lawsuit against the Thompsons, asking for at least $1 million in damages.
Cagle said he had not yet seen the lawsuit and declined to comment.
Randall Kallinen, an attorney for the Hernandez family, alleges the actions of deputies who investigated the case, including not interviewing all potential witnesses at the scene, are examples of preferential treatment Chauna Thompson and her husband received. The Harris County Sheriff's Office is conducting an internal affairs review of the actions of deputies who responded to the scene.
The Thompsons "should have been arrested at the scene. I don't know what the quick rush to judgment is," Kallinen said.
Sandra Guerra Thompson, a professor at the University of Houston Law Center who is not related to Chauna and Terry Thompson, said she wasn't surprised that the case went before a grand jury a little over a week after Hernandez's death because it was "not a super complicated case." She said if it had been an officer-involved shooting, such a case would have probably taken longer to present to a grand jury because it would require more investigation and review of evidence.