Mothers against gun violence moving forward together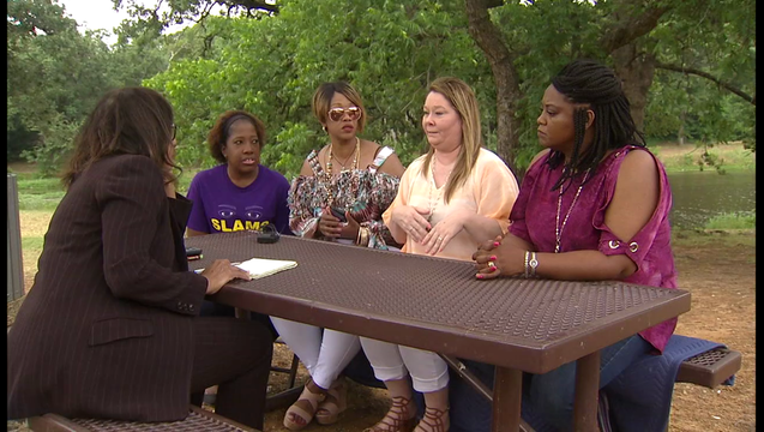 article
North Texas mothers are moving from grief to personal growth.
The group is called Journey 4Ward, and the women have lost children in gun-related incidents.
This weekend, the group will travel from North Texas to Florida to take part in an event by the Trayvon Martin Foundation
Cathy Taylor's son, Corey, was 27 years old. The man who shot and killed him is now serving time in prison.
"Corey was the life of the family," she said.
Cathy's grief and healing have spawned a sisterhood.
"It's a kindred kind of spirit," she said. "I just feel like they lift me up. I know I'm not alone."
Tina Taylor's son was Christian Taylor. He was killed in the 2015 incident that cast a national spotlight on the 19-year old and the Arlington officer who shot and killed him at a car dealership.
"One day at a time, slow it down," Tina said. "We got to make it through this weekend first. We've got to heal."
As a group, they'll travel to Miami this weekend for an event by the Trayvon Martin Foundation.
Dee Crane's son, 23-year-old Tavis Crane, was killed in an Arlington officer-involved shooting in February. He had a twin brother and a smile she says that was infectious. Her grief is raw.
"I'm hoping other mothers can teach me or say something that I can deal with that quiet anger by myself," she said.
Diana Earl's son was 22-year-old Dedrick Earl. She says a senseless argument ended with her only child shot dead. She lives in Austin.
"I've been at the capitol. I'm very vocal at the capitol," she said. "I've testified against some gun bills."
Their son's memories encourage them.
"If anything, I'm going here to see if I'm missing anything in this grief process that would hinder me from helping someone else," Dee said.
Journey 4ward has lofty goals. One of the first involves starting a support group for fathers who have lost children to gun incidents.