Barber cuts hair for autistic teen in his 'happy place'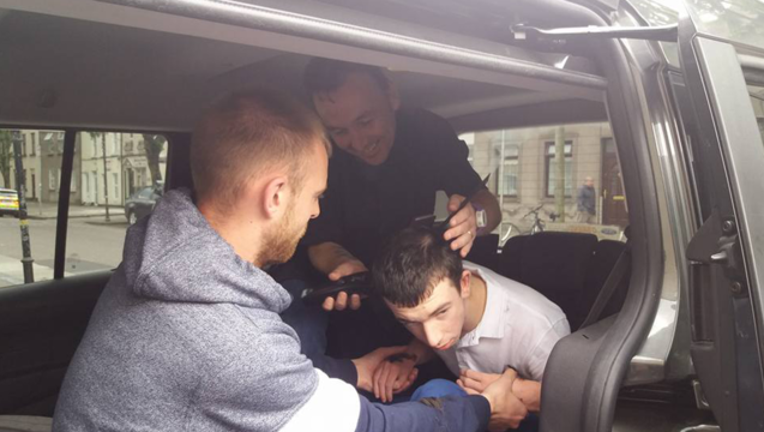 CORK, Ireland - A barber in Ireland is receiving kudos from around the world after the father of an autistic 16-year-old shared photos of him going above and beyond for the teen on Facebook. Evan O'Dwyer, who is nonverbal, has been getting his hair cut by Donncha O'Connell at Baldy Barber in Blackpool for the past 14 years.
"He [has been] going to Donncha for the last 14 years but had issues on Monday, so he wasn't going to sit in the barber's chair and was getting very anxious and agitated," O'Dwyer's mother, Deirdre O'Dwyer's mother, Deirdre O'Dwyer, told Yahoo. "The haircut had started, so we had to finish it."
Minor changes in routine or surroundings can upset a child or teen with autism and they may have highly restrictive interests. According to Autism Speaks, the disorder may also cause unusual and intense reactions to sounds, smells, tastes, textures, lights and or colors.
Deirdre said her son is happiest in the car, so Donncha followed him out and finished up the car while O'Dwyer was seated comfortably with his brother, Dylan.
"It's great when you have a brilliant barber and who totally understand (sic) autism and who will go to any lengths to make your child feel comfortable," Deidre posted May 29 on Evan's Facebook page. "Donncha O Connell Snr has been cutting Evans (sic) hair for the past 14 years but today Evan had other ideas and refused to stay in the chair so Donncha and his brother Dylan improvised and he cut his hair in the car. Fair play Donncha always making Evan feel at ease."
Since Deirdre shared the photos, numerous news outlets and the popular Facebook page "Love What Matters" have picked up the story and shared it. On the O'Dwyer's personal page, the post had received more than 3,400 likes and 417 shares as of Tuesday morning.
"So when I put up the post today about Evan getting his haircut, I never dreamed it would get such a reaction," a follow-up post on the page read in part. "Here's hoping other parents who have children on the spectrum realise that there are kind and caring people out there willing to go above and beyond to help make a difference to our challenging everyday lives."