AP Exclusive: Trump campaign chief linked to Putin interests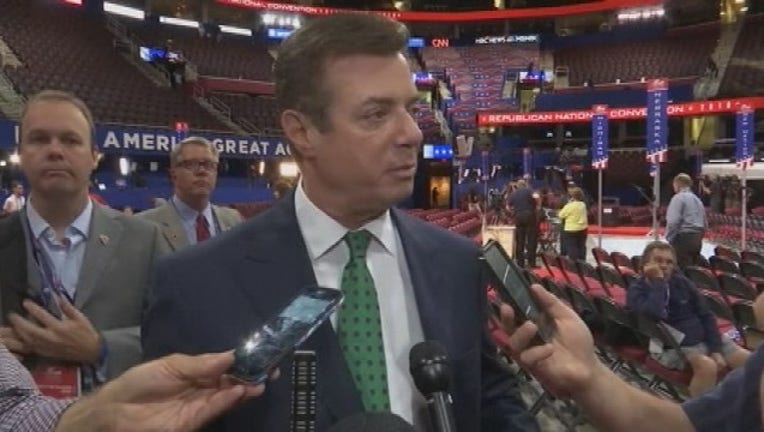 WASHINGTON (AP) - President Donald Trump's former campaign chairman, Paul Manafort, secretly worked for a Russian billionaire to advance the interests of Vladimir Putin a decade ago and proposed an ambitious political strategy to undermine anti-Russian opposition across former Soviet republics, The Associated Press has learned.
The White House on Wednesday acknowledged the AP's revelations had "started to catch a lot of buzz" but brushed them aside, though some members of Congress expressed alarm. Manafort's activities appeared to contradict previous assertions by the Trump administration and Manafort that he never worked for Russian interests.
Manafort proposed in confidential strategy plans as early as June 2005 that he would influence politics, business dealings and news coverage inside the United States, Europe and the former Soviet republics to benefit the Putin government, even as U.S.-Russia relations under Republican President George W. Bush grew worse.
Manafort pitched the plans to Russian aluminum magnate Oleg Deripaska, a close Putin ally with whom he eventually signed a $10 million annual contract beginning in 2006, according to interviews with several people familiar with payments to Manafort and business records obtained by the AP.
Manafort and Deripaska maintained a business relationship until at least 2009, according to one person familiar with the work.
"We are now of the belief that this model can greatly benefit the Putin Government if employed at the correct levels with the appropriate commitment to success," Manafort wrote in the 2005 memo to Deripaska. The effort, Manafort wrote, "will be offering a great service that can re-focus, both internally and externally, the policies of the Putin government."
White House spokesman Sean Spicer indicated Wednesday that President Trump had not been aware of Manafort's work on behalf of Deripaska. "To suggest that the president knew who his clients were from 10 years ago is a bit insane," Spicer said. He noted the AP's reporting "has started to catch a lot of buzz" but said Manafort's work occurred long before he became Trump's campaign chairman.
"I don't know what he got paid to do," Spicer said, adding, "There's no suggestion he did anything improper."
Manafort's plans were laid out in documents obtained by the AP that included strategy memoranda and records showing international wire transfers for millions of dollars. How much work Manafort performed under the contract was unclear.
The disclosures come as Trump campaign advisers are the subject of an FBI investigation and two congressional inquiries. Investigators are reviewing whether the Trump campaign and its associates coordinated with Moscow to meddle in the 2016 campaign, an allegation that Manafort has dismissed as politically motivated.
Manafort confirmed in a statement to the AP he worked for Deripaska in various countries but said the work was being unfairly cast as "inappropriate or nefarious" as part of a "smear campaign."
"I worked with Oleg Deripaska almost a decade ago representing him on business and personal matters in countries where he had investments," Manafort said. "My work for Mr. Deripaska did not involve representing Russia's political interests."
Meanwhile, Sen. John McCain, R-Ariz., called the disclosures "serious stuff" and more evidence that an independent congressional committee should investigate the Trump administration. "Other shoes will drop," McCain said. His Republican colleague, Lindsey Graham of South Carolina, another frequent Trump critic, called the disclosures "something that needs to be looked at."
"I don't know if he violated the Foreign Agent Registration Act, but it's something I think we all need to know more about," said Graham, referring to a U.S. law that requires people who lobby on behalf of foreign political leaders or parties to provide detailed reports about their actions to the government.
Deripaska became one of Russia's wealthiest men under Putin, buying assets abroad in ways widely perceived to benefit the Kremlin's interests. U.S. diplomatic notes from 2006 described Deripaska as "among the 2-3 oligarchs Putin turns to on a regular basis" and "a more-or-less permanent fixture on Putin's trips abroad."
Democrats on the House intelligence committee said the new revelations will feature in their congressional investigations. Rep. Eric Swalwell, D-Calif., said on MSNBC that Manafort should appear before that committee, and he raised the specter of a subpoena should Manafort not come on his own.
Another committee member, Rep. Jackie Speier, D-Calif., said the disclosure is "not a drip, drip, drip. This is now dam-breaking with water flushing out with all kinds of entanglements."
In response to questions about Manafort's consulting firm, a spokesman for Deripaska in 2008 - at least three years after they began working together - said Deripaska had never hired the firm. An official representative of Deripaska said in a statement Wednesday: "There was an agreement between Mr. Deripaska and Mr. Manafort to provide investment consulting services related to business interests of Mr Deripaska which now is a subject to legal claims."
In the U.S., Manafort worked as Trump's unpaid campaign chairman last year from March until August when Trump asked him to leave after the AP revealed that he had orchestrated a covert Washington lobbying operation until 2014 on behalf of Ukraine's ruling pro-Russian political party.
Manafort told a colleague this year he continues to speak with Trump by telephone..
___
Associated Press writers Jack Gillum, Eric Tucker, Julie Pace, Ted Bridis, Stephen Braun and Julie Bykowicz contributed to this report in Washington; Nataliya Vasilyeva contributed from Moscow and Kiev, Ukraine; and Jake Pearson contributed from New York.
___
Submit reporting tips to The Associated Press: https://www.ap.org/tips