Analysis: Controversy aside, GOP sticking with Trump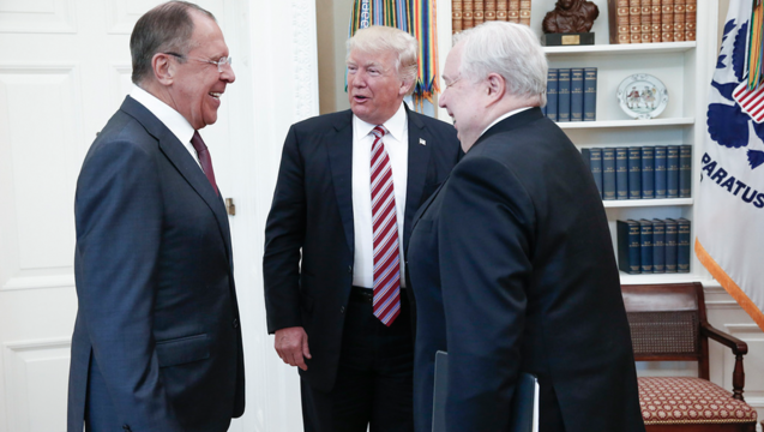 WASHINGTON (AP) - It's striking how many congressional Republicans are concerned about President Donald Trump's behavior of late. It's even more striking how many are not.
Republican leaders in the House and Senate are pledging a thorough investigation of Trump's firing last week of FBI Director James Comey, along with revelations that the president disclosed classified information to the Russians and asked Comey to back off a sensitive investigation. GOP committee chairmen in the House and Senate issued invitations Wednesday for Comey to testify in open session on Capitol Hill, and Senate Majority Leader Mitch McConnell seconded the call to hear from the former FBI chief.
But ask some GOP lawmakers, particularly House members from conservative districts or senators from GOP-leaning states, and they don't need an investigation to tell you there's no there there.
"At this point I have not seen anything that is that alarming," said Rep. Robert Aderholt of Alabama.
"I'm convinced that the president did nothing that he thought was outside the best interest of the country," said Rep. Trent Franks, R-Ariz.
"A lot of times he's the victim of not being a career politician," Rep. James Comer of Kentucky said of Trump.
"You guys are barking up the wrong tree," Sen. James Risch of Idaho told a group of reporters asking about the various controversies.
Risch insisted the "real story" is leaks coming out of the administration. And citing a Washington Post story about Trump disclosing classified information to Russian diplomats in the Oval Office a day after firing Comey, Risch said it had been disclosed by "a weasel ... a traitor. They've committed treason and ought to go to prison."
The nonchalance coming from those Republicans and others is notable at a moment when the White House appears immersed in the most serious crisis of Trump's young presidency. Sen. John McCain of Arizona, the Republican chairman of the Armed Services Committee, says it's a "scandal" of Watergate proportions, and the only way to end it is to get out the full truth.
But other Republicans see it differently. In many cases, they represent states or districts that voted strongly for Trump, and where the GOP base still ardently supports the president.
In GOP Rep. Barry Loudermilk's Georgia district, for example, Trump won with 60 percent of the vote. Loudermilk said Wednesday that after spending an 11-day recess back home, he's convinced his voters remain strongly supportive of the president.
"Definitely, there's no question," Loudermilk said. "After spending this last week in the district I can tell you."
Some of these Republicans say the Russia issues are barely registering with their voters, who have grown accustomed to tuning out the media uproar of the day surrounding Trump. For many of these lawmakers, the potential for a conservative primary opponent is greater than any threat from a Democrat.
And so Democrats' clamor for Republicans to stand up to the president and appoint a special prosecutor to investigate him does not resonate.
There's also the issue of the GOP agenda. Having finally obtained control of the House, Senate and the White House, Republicans have ambitious goals for rewriting the nation's health care law and tax code. McConnell and other leaders are convinced that if they don't deliver, voters will punish them at the polls in the 2018 midterm elections.
They still need Trump to attain any of those goals, and absent more compelling evidence of wrongdoing the party is not prepared to abandon him yet. There may be a day when it's no longer politically feasible for Republicans to stick with Trump, but it has not arrived, even though some Republicans are warning that their agenda will stall if the White House doesn't put some of the questions behind it.
"I think the legislative process is pretty much ground to a halt until you get the Comey episode dealt with," said Sen. Lindsey Graham, R-S.C.
If Republicans pull off victories in upcoming special House elections in Georgia, Montana and South Carolina, they'll likely be even more encouraged to stay the course with Trump. Rep. Aderholt said House Speaker Paul Ryan, R-Wis., showed optimism about the upcoming races in a closed-door discussion with House Republicans Wednesday, pointing to recent House passage of legislation to repeal and replace "Obamacare."
"No red flags were mentioned or anything else," Aderholt said. "Everybody's very optimistic, matter of fact the speaker was just talking about how since the passage of the health care bill that we passed things are actually looking more optimistic in some of these special races."
___
EDITOR'S NOTE: Erica Werner has covered Congress since 2010.
___
Associated Press writers Richard Lardner, Alan Fram, Andrew Taylor, Matthew Daly and Mary Clare Jalonick contributed to this report.
An AP News Analysis