40 North Texas-area students earn full rides to TCU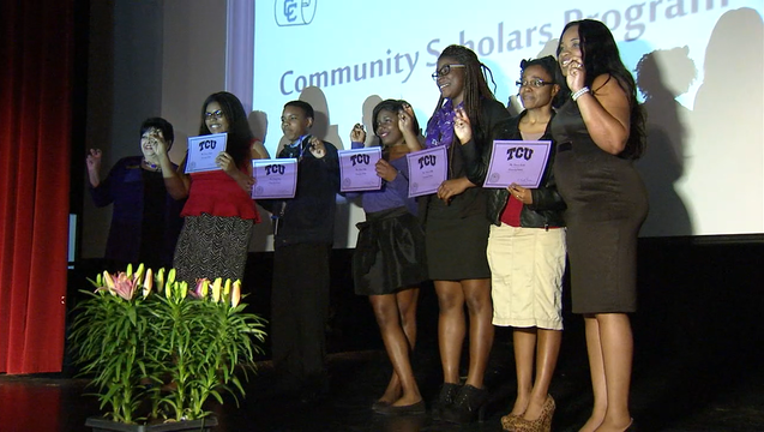 Forty North Texas high school seniors are TCU-bound next year and their education won't cost their families a dime.
It wasn't your average high school pep rally at Dallas Carter High School, where TCU officials stopped by to award five students full four-year scholarships.
Rickey Perry and 4 other Carter High School seniors were the guests of honor at this afternoon assembly.
"There's 300 kids applying so what if I don't get it. Then I was like I've gotta have confidence in myself so I applied and now I'm here," Rickey said.
To say Perry's mom, single parent Virginia Perry was excited would be an understatement. She and Rickey's grandmom say it's been a long road.
"When he was 4, I was already getting him up early taking him to school," Virginia said. "I've been raising him."
Carter HS was one of 11 area schools to partner with TCU's Community Scholarship Program. In all, 40 deserving North Texas seniors received the awards.
"We had over 80 students come to TCU's campus and interview over 2 full days of interviews, we had to make some tough decisions," said TCU official Timeka Gordon.
Rickey said he's happy to attend the Fort Worth school and wants to pursue a degree in broadcast journalism. But when it came to who was more excited -- it seemed his mom has got him beat.
"Oh my God... and he's got a full ride for 4 years! Yes maam!" Virginia said. "I'm just so excited."