Skoug, TCU topple Missouri St 3-2 in super regional opener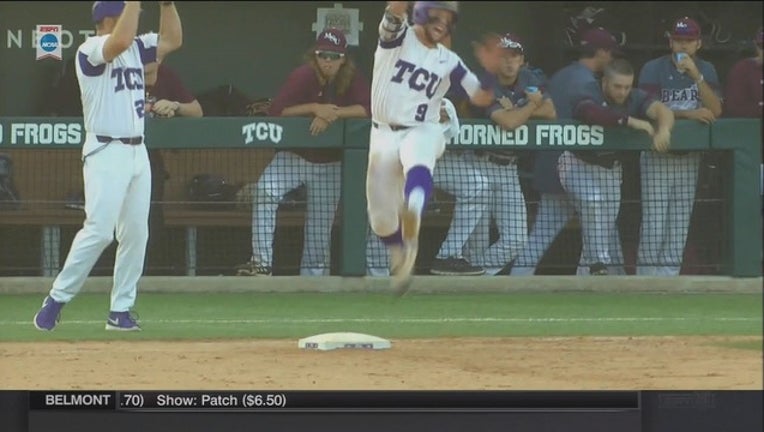 FORT WORTH, Texas (AP) - Evan Skoug hit a go-ahead two-run homer in the eighth inning, sending TCU past Missouri State 3-2 in a super regional opener Saturday night.
Skoug's one-out shot just over the fence in right field - his 19th homer of the season - came on the fourth pitch from reliever Jordan Knutson (8-4), who replaced Dylan Coleman for a lefty-lefty matchup after the Bears starter threw a season-high 132 pitches.
The rally put the Horned Frogs (46-16) within a victory of their fourth straight trip to the College World Series. TCU, seeded sixth nationally, has won its super regional opener each time, and the previous three went to a decisive third game. Game 2 is Sunday.
Sean Wymer (5-4) pitched 1 2/3 scoreless innings after TCU ace Jared Janczak struck out 10 in 6 1/3 innings. Durbin Feltman got a game-ending double play for his 17th save.
Coleman worked around five walks, a hit batter, two wild pitches and three passed balls by catcher Logan Geha, leaving with a 2-1 lead after striking out 10 and allowing just three hits in 7 1/3 innings.
The Bears (43-19) are seeking their second trip to Omaha in their second super regional appearance in the past three seasons. The other CWS bid was in 2003.
Jeremy Eierman hit his 23rd homer for Missouri State in the second inning, breaking a tie for the team lead with Jake Burger.
After Ryan Merrill pulled TCU even with an RBI single in the second, the Bears went back in front in the fifth when leadoff hitter Hunter Steinmetz bunted home Geha, who had doubled.
Janczak gave up five hits and two runs, and Skoug's blast helped him avoid what would have been his first loss in 10 decisions. TCU improved to 4-0 this postseason.