Police admit mistake, drop shoplifting case against Lucky Whitehead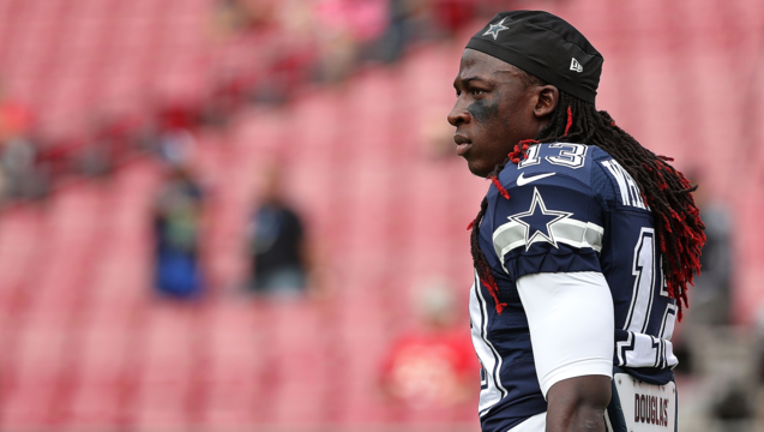 DALLAS - It seems Lucky Whitehead was telling the truth. He was not arrested for shoplifting in Virginia.
Police in Prince William County, Va. dropped the case against Whitehead on Tuesday and apologized to the former Dallas Cowboys player.
According to a statement from the police department, the man who was arrested for stealing about $40 worth of food and drinks from a convenience store on June 22 did not have an ID on him. He gave the arresting officers Whitehead's name, date of birth and social security number.
"Officers then checked this information through the Virginia Department of Motor Vehicles (DMV) database. The DMV photo on file was then used to compare to the man who was in custody. Officers acted in good faith that, at the time, the man in custody was the same man matching the information provided," Prince William County Police said.
TMZ reports police have since reviewed surveillance video of the incident and confirmed it was not Whitehead.
"At this point, the police department is also confident in confirming that Mr. Whitehead's identity was falsely provided to police during the investigation," police said. "The police department regrets the impact these events had on Mr. Whitehead and his family."
The Cowboys cut Whitehead from the team Monday after the news of the case broke. He was charged with larceny and a warrant was issued for his arrest because court records showed he did not show up for a July 6 court appearance.
Whitehead ducked reporters Monday afternoon and said he didn't know what was going on. The third-year wide receiver said he didn't know who was arrested and claimed he was in Dallas the morning of the crime.
During a three-minute news conference Tuesday afternoon, Head Coach Jerry Jones refused to admit the Cowboys mishandled the mess.
In a phone interview Tuesday, Whitehead said he was blindsided.
"There's not much I can do at this point. Like I said, I told them that it wasn't true and no one had my back," he said.
Whitehead said he learned about the accusations while he was on the practice field. Less than two hours later he was cut. He said he didn't really get time to clear his name.
"Shoplifting… seriously? And under $40 from a convenience store? Come on," he said.
He said he has plenty of questions about the case of mistaken identity but he has people working with him to get to the bottom of it. He plans to talk to his agent and lawyers about possible legal action.
Whitehead would not comment on whether he'd go back to the Cowboys if invited. He said if the team was trying to make an example of him it was a bad example.
"Whatever point they were trying to make, I guess they thought they made it. But like I said, I didn't do this stuff I was accused of," he said. "I wasn't perfect. I've been late to a meeting. But as far as legally getting in trouble…  no. It gave them an opportunity and they took it."
He's still optimistic about his future with the NFL.
"How everything went down, it's not the end of me," he said. "I just want to get back playing football." 
Whitehead's cut came after two Dallas defensive players were arrested during the offseason. But Cowboy's executive vice president of personnel Stephen Jones had previously said the team's decision was an accumulation of incidents, without providing specifics.
"I don't think it's anything to do with anybody else," Jones said. "We feel like we've given Lucky a lot of different chances along the way going back to last year and I think just decided it was time to go in a different direction."
Whitehead was late to a Saturday walkthrough before a game at the New York Giants last December, and head coach Jason Garrett told him not to join the team flight. He was also involved in a car accident that Garrett learned about through media reports last year.
Garrett previously said any case of mistaken identity was beside the point for the Cowboys.
"In handling the situation and evaluating with the authorities there and in talking to him, we just didn't feel like it's in the best interest of the Cowboys to have him with us," Garrett said before news of Whitehead being wrongfully charged came to light.
Just a week ago Whitehead reported his pit bull was stolen from his home in Addison and held for ransom. A Fort Worth rapper named Boogotti Kasino returned the dog that he said he bought from a woman.
Police in Addison are still investigating that incident. Police in Virginia are also looking for the real shoplifter.
The Associated Press contributed to this report.