DeRozan scores 25 as Raptors beat Mavericks 100-78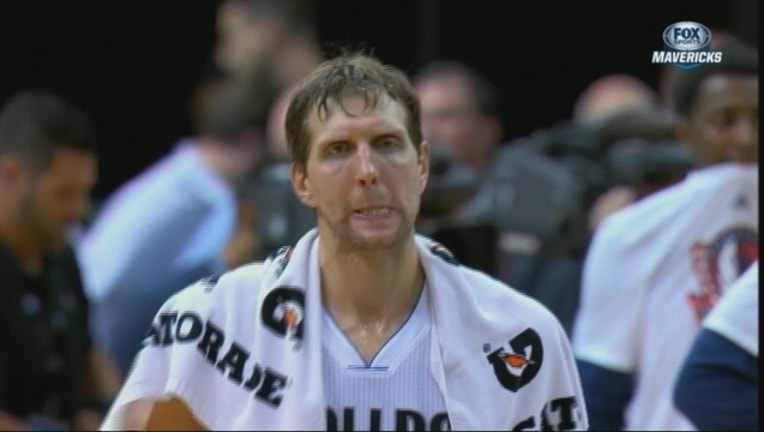 TORONTO (AP) - DeMar DeRozan scored 25 points, Norman Powell added 19 and the Toronto Raptors beat Dallas 100-78 on Monday night, their third straight victory over the Mavericks.
Jonas Valanciunas had 14 points and 12 rebounds as the Raptors beat Dallas for the sixth time in their last eight meetings. Toronto swept the season series last year.
Harrison Barnes had 18 points and Dirk Nowitzki scored 17 for Dallas, which lost starting forward Wesley Matthews to a strained right calf. Matthews, who was averaging 14.7 points coming into the game, was removed with 1:07 to play in the first half and did not return.
The Raptors led by 13 entering the fourth quarter, then opened the period with a 10-2 run that extended the lead to 21 in the opener of the Mavericks' four-game road swing.
DeRozan and Valanciunas combined for 19 points in the first quarter, while Dallas was more balanced and took a 26-25 lead into the second quarter.
A 10-4 run to open the second gave Toronto its first lead since the opening basket. Through eight points from Powell and going 4 of 10 from 3-point range, the Raptors took a seven-point lead, before settling for a 50-46 edge at halftime.
DeRozan then scored 11 more points in the third quarter, before a pair of free throws from Jakob Poeltl with 3.7 seconds remaining pushed the lead out to 79-66 entering the final 12 minutes.
TIP-INS
Mavericks: C Nerlens Noel (left knee) sat out his third straight game. . Seth Curry went scoreless in the first half, before eventually finishing with five points. ... Dallas was outrebounded 34-55.
Raptors: F DeMarre Carroll (left ankle) missed his second consecutive game. . Toronto is now 7-4 this season without All-Star G Kyle Lowry, likely out for the remainder of the regular season following surgery on his right wrist. . Toronto plays Dallas again on March 25 at American Airlines Center. . With a block in the first quarter, Serge Ibaka has recorded at least one block in each of his 10 games with the Raptors since coming over in a trade from Orlando on Feb. 14th. . After missing on all four 3-point attempts they took in the first quarter, Toronto went 9 of 21 the rest of the way.
RUNNING IN THE FAMILY
"He's probably shooting better than his brother right now and that's one trait, and Dell, I coached against their dad when I was at Western Kentucky and he was at Virginia Tech, and so all of them could shoot it and not sure their mom did either, but the whole family, it seemed like they could shoot the basketball."
Raptors coach Dwane Casey on Seth Curry, currently shooting 48.2 percent from the floor before Monday's game, better than brother Stephen's 46.1 percent.
UP NEXT
Mavericks: Visit Washington on Wednesday, looking for an eighth consecutive victory in the nation's capital.
Raptors: Host Oklahoma City on Thursday, aiming to wrap up a season sweep of the Thunder.