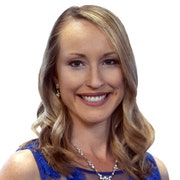 "Sunlight is said to be the best of disinfectants; electric light the most efficient policeman," said former U.S. Supreme Court Justice Louis Brandeis.  
It's a simple sentence that sums up my duty as a journalist. We're here to shine a light on problems that need to be solved.
Since joining Fox 4 in 2015 it's been gratifying to see the many results of our stories that helped right wrongs.
During the historic 2021 Winter Storm we gave a voice to residents forced to fill up buckets of water at a fire hydrant because the water at their complex had been shut off for days. We also got results for other residents without power or water for five days, yet their apartment complexes were not providing any alternatives while they repaired broken pipes. 
Early in the pandemic, we helped many who waited months to get unemployment checks that they needed to pay their bills. The delays were the result of widespread fraud plaguing an overloaded system. Two state lawmakers were among those whose names were fraudulently used to file claims. Legislative reforms were later made to help improve the system.
An investigation in 2019 exposed an alarming new apartment towing practice, that left apartment residents feeling targeted. Our investigation showed viewers how they can challenge illegal tows.
In 2017 we exposed a broken system within Dallas Animal Services that was failing to investigate and prosecute animal abuse cases in Dallas. The investigation featured dozens of unsolved cases involving dead animals, including one with a dog whose throat was deeply cut, yet no one agency was tracking the cases. Out of 4,000 reports of cruelty, only 11 made it to the District Attorney for prosecution. Since the investigation, the Dallas Police Department has added an animal cruelty unit. The story was honored with awards from the National Press Club and Dallas Bar Association.
Another report exposed a superintendent was living in a $700,000 house bought with tax dollars. The school district spent $125,000 tax dollars to renovate the house, without getting approval from the school board. Our reports led to the school district launching its own investigation. The school board later removed the home from the Superintendent's contract.
It was eye opening to report on the devastation left behind in Houston after Hurricane Harvey in 2017, but it was also inspiring to see the grit and generosity of Texans in the wake of the storm.
Before moving back to my home state of Texas, I was a reporter at WFTV-TV in Orlando, Florida. While there, many of my reports focused on areas where the government could better serve its citizens, while not wasting tax dollars. One report exposed that the city gave a company $1,000,000 tax dollars to build a development that it never built. 
Another investigation, revealed how easy it was to buy illegal drugs right off the shelves at an Orange County store. After our report, the Orange County Sheriff's Office raided the store, and pressed charges against the owner. 
Before Orlando, I was a reporter for WMC-TV in Memphis, Tennessee, and KCOY-TV, in Santa Barbara County, California.
I received a degree in Broadcast Journalism and Political Science from the University of Southern California. Fight On Trojans!
I'm married to my college sweetheart.  He is in the mortgage banking business, and shares my passion for crunching numbers, and wading through budgets and public expense reports.
At this writing in 2022, we have a 8 year-old son, and 3 daughters ages 5, 2, and 6 months! We love going to Church as a family, spending time at the Dallas Arboretum, and taking vacations at the beach or mountains. We also love cheering on the Rangers, Mavs, Cowboys, and of course our Trojans! But the greatest show is watching our kids do what they love best: play soccer, cartwheel, sing and dance, color masterpieces, and yes, even do math.
The latest from Lori Brown