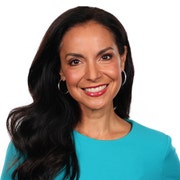 Natalie Solis
Reporter/Anchor
It's true what they say, understanding others helps us understand ourselves.
Well, in my quest for understanding (OK, let's be honest, a little excitement!) this girl from San Antonio didn't exactly follow a straight and narrow path.
Along the way, I traversed the jungles of Costa Rica, saw first-hand the weathered faces of Guatemalan farmers, talked politics with locals over un cafecito in Cuba, cozied up to a camel in Morocco, dined in the Eiffel Tower, rattled castanets in Spain, and the list goes on.
Sometimes I was gainfully employed, other times I was stretching each penny as far as possible.
It's no secret I LOVE to travel, but even more thrilling to me than experiencing a new place, is meeting new people, learning their history, absorbing their culture.
I started in TV news because I had an uncle in the business and what he did seemed like the best possible job a person could have: tell people's stories, simple as that.I was a sophomore at Brown University when it became clear to me I wanted to be a journalist.
My mother -- a hard-working, single parent -- had hoped I'd continue on the pre-med track I had started on, but that wasn't in the cards.
I graduated and went to work at NBC News in New York. It was an amazing first job, but it was far more commitment than I was ready for at the ripe old age of 22. When else was I going to be young, unattached and virtually care free?!
So I sold my car, packed my bags and decided to see the places I'd only read about.  During my travels, I didn't always know where I'd end up, but I knew I'd learn something.
I eventually settled down again, landed a reporting gig at a small station in New Jersey and from there moved to Miami, where there is no shortage of news, ranging from hurricanes and the devastation that follows to what seemed like weekly police standoffs and hostage situations to immigration and cultural issues to high- profile court cases, and then of course, celebrity drama.
Yes, I covered it all.
Now here I am, years after I left, back in my home state, close to my family. But this isn't where my story ends.
Each day is still an adventure, only now I feel a greater responsibility as a journalist to the people nearest and dearest to my heart. When I cover a story, I'm allowed a glimpse into someone's life, and I get to walk in their shoes, if only for a moment.
My hope is that by telling people's stories we all get to embark on a journey and we all get to keep the souvenir -- a better understanding of ourselves and the world around us. Got a good story idea?
Write me at %20natalie.solis@fox.com or catch me on my Facebook page.
The latest from Natalie Solis