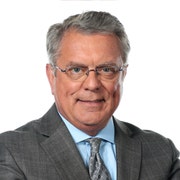 "No," Tim says, "you never do get used to getting up so early!"
Tim Ryan has been co-anchoring FOX 4's Good Day since its inception and continues to drag himself out of bed for four and a half hours of non-stop news and fun every weekday.
Most of Tim's career in radio and television has been as a field reporter, with a mercifully brief stop in news management. In that time he's been lucky enough to meet everything from politicians to prisoners, celebrities and news makers and lots of ordinary people, who often prove to be the most interesting stories.
He's reported from five continents and covered major wars, minor conflicts, political campaigns, floods, fires, hurricanes and tornadoes.
One of Good Day's most popular weekly features is Friday morning's "Tell it to Tim."
It's irreverent and sometimes close to out-of-bounds.
"People tell me they can't leave for work on Fridays until they've seen 'Tell it to Tim.' It's strange, but true."
The most challenging part of the job, Tim says, is also what makes it fun and interesting: It's never the same.
Tim and his wife, Beth, are blessed to have the two greatest kids in the world (in his humble opinion), Meghan and Patrick. They're all terribly patient with his long history of keeping such strange hours.
E-mail Tim at tellittotim@fox.com.