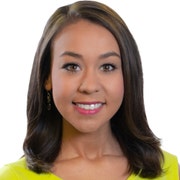 When you love what you do, you never work a day in your life - I can honestly say that's true. You can watch me bright and early as I report across North Texas for Good Day. Some stories are difficult to cover, others exciting to share, but my favorite are those that make a difference within our community as I am passionate about helping others.
I'm a native Texan and have been lucky enough to have spent all eight years of my career in this great state.  Prior to my role as a Reporter for FOX 4's Good Day, I worked at the FOX sister-station in Austin, where I interned while attending the University of Texas. I spent five years at FOX 7 as the weekend evening anchor and night-side reporter. Some of my most notable work was a series of investigative pieces into mysterious homicides in Del Valle, where I helped bridge the gap between the community and the police. I was also sent to Houston to cover the devastation of Tropical Storm Harvey, contributing work and live reports to dozens of FOX stations. I did similar national coverage for the church shooting in Sutherland Springs and package bombs in Austin. I was recognized by the Associated Press for several stories throughout my tenure and received an award for 2nd place Reporter in the area.
My first job was in Amarillo, where I started out behind the camera and later took on many roles. While there, I interviewed former President George W. Bush during the Wounded Warrior 100K bike ride.  I requested that he autograph a shirt which I later delivered to a child in the Make-A-Wish foundation.  I also helped raise thousands of donations for the tornado victims in Shawnee and Moore, Oklahoma, and documented the process of delivering them at shelters. In Amarillo I helped re-brand the morning show as an Executive Producer, Anchor and Reporter.
My love for news started when I was young.  I was always the one getting in trouble for talking too much in class. By my senior year of high school, I was awarded a mentorship with FOX 29 in San Antonio. It was my first hands-on experience of what it would be like to work in the business and that's when I knew it was my calling.  I filmed, wrote and edited a story on my senior prom which won me an award through the National Association of Hispanic Journalists. I've been part of that organization ever since, giving students advice, tips and encouragement to accomplish their dreams as I have.  If you set your mind to it and work hard, you can accomplish anything.
When I'm not working, you can find me cheering on my Longhorns, running the Katy Trail, volunteering with the National Alliance on Mental Illness, or spending time with family and friends. If you see me out, come say hi and if you have a story idea, I would love to hear it. 
The latest from Ashley Paredez