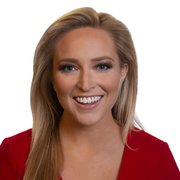 I love being a journalist, and consider it an honor that people trust me to tell their stories.  I believe in original reporting and compelling storytelling.    Each day, I make every effort to dig for the truth, be a voice for the voiceless, share inspiring stories and lead the newscast with breaking news.
I am a North Texas native!   I grew up in McKinney, Texas with my parents and twin brothers, and graduated as president of the first class at McKinney Boyd High School.   I received a degree in journalism from the University of Oklahoma, where I was honored to be named the top collegiate news anchor in the country by the Broadcast Education Association, and received the highest student honor from the Oklahoma Association of Broadcasters. I also studied journalism abroad in London and Paris at CNN International, Sky News, BBC, The Guardian and more.
My professional career began at KXII-TV in Sherman, Texas, where I broke the story of a boy battling cancer, whose health coverage was canceled mid-treatment due to changes under the Affordable Care Act, and covered the final death penalty appeal for a convicted quadruple killer, one of the longest-serving inmates on Texas' death row.
I continued my career at KOTV News On 6 in Tulsa, where I did more than 50 stories on allegations of misconduct at the Tulsa County Sheriff's Office, which resulted in a grand jury investigation of the department.  The extensive reporting on the sheriff's office was recognized with a regional Edward R. Murrow award and an Emmy nomination for continuing coverage.  I  also worked with investigative journalists at The Frontier to report on dangerous oilfield trucks on Oklahoma roads and a decades-long practice of Tulsa Police officers buying rank.
I have also gone live for the CBS Evening News to report on devastating floods in Oklahoma.
Since joining the FOX 4 team, I have covered the Dallas Police Ambush Shootings and traveled to Central Texas to cover the deadliest hot air balloon crash in United States history.  I will never forget reporting live at police headquarters the night of the Dallas police shooting, as people started showing up to pay their respects to the fallen officers.
When I'm not reporting, I am shopping, trying new restaurants, reading, watching crime shows, spending time with my family and friends or planning my next world travel!
The latest from Allison Harris