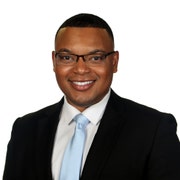 Terrance Friday
Anchor/Reporter
I have always been a big dreamer and in following my own ambitions, I have developed a love for pushing others to do the same.
I decided I wanted to be a journalist back when I was in the fourth grade.  My teacher had us do a weekly current events assignment, which a loved. As a shy, reserved kid, that task, along with reading writing commanded my attention. My teacher encouraged me to pursue a career in journalism, and the journey began.
As a young child growing up in Minneapolis, along with countless hours of power rangers, I spent a lot of time reading newspapers and watching the local news.  My mother says I would often ask her, "How do I get inside the TV?"
Determined to make my dream a reality, I got my degree in broadcast journalism. With the encouragement of my parents, I studied at Tougaloo College, a private, Christian-based, historically black college in my birthplace of Jackson, MS.
I landed my first reporting job at WABG-TV in Greenville, MS, which led me to my second station in Biloxi. There, I covered the devastation left from Hurricane Katrina, and also got the opportunity to work with a sister station in Birmingham, AL.
From the Gulf Coast I was given an anchoring role for a FOX affiliate in Lansing, MI.  My time there led me back to Mississippi, where I worked WJTV-TV in the state's capitol city.  My time there gave me one-of-a-kind experience in my field, and allowed me to meet some amazing people along the way. I was also blessed with the chance to work with other stations within the company in cities like KLFY News 10 in Lafayette, LA and WISH-TV in Indianapolis, IN.
There are so many wonderful teachers, family members, and chance encounters that have played a major role in my achievements. I am forever grateful and have committed myself to helping others make their dreams a reality as well.
All of that time equipped me with the experience I needed to achieve a longtime dream of working in Dallas, TX. It's the perfect fusion of southern charm, and big city living. These were two things that were a major part of my childhood.
It is a great honor to be part of the Good Day team, and I look forward to getting to know the people of Texas.
You can reach me Terrance.Friday@foxtv.com
The latest from Terrance Friday
Another Collin County city may soon make face coverings a requirement.
Collin County does not have an order requiring masks to be worn in businesses. That might change soon in the city of McKinney.
An Amber Alert issued late Sunday for a 7-month-old Irving baby girl has been canceled.
There was a peaceful protest in Fort Worth Monday night just hours after the city implemented a new curfew.
Three innocent people were killed in a crash overnight in West Dallas.
It took hours Saturday to feed everyone in line for a food giveaway put on by North Texas based Mint Dentistry.
Automakers are re-starting their manufacturing plants Monday with new safety measures in place.
There are predictions that there may be a significant increase in deaths across the United States due to the coronavirus. But, the White House is pushing back against those projections.
Baylor University is planning to resume on-campus classes for the fall semester.