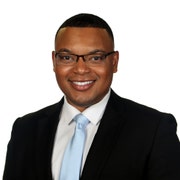 Terrance Friday
Anchor/Reporter
I have always been a big dreamer and in following my own ambitions, I have developed a love for pushing others to do the same.
I decided I wanted to be a journalist back when I was in the fourth grade.  My teacher had us do a weekly current events assignment, which a loved. As a shy, reserved kid, that task, along with reading writing commanded my attention. My teacher encouraged me to pursue a career in journalism, and the journey began.
As a young child growing up in Minneapolis, along with countless hours of power rangers, I spent a lot of time reading newspapers and watching the local news.  My mother says I would often ask her, "How do I get inside the TV?"
Determined to make my dream a reality, I got my degree in broadcast journalism. With the encouragement of my parents, I studied at Tougaloo College, a private, Christian-based, historically black college in my birthplace of Jackson, MS.
I landed my first reporting job at WABG-TV in Greenville, MS, which led me to my second station in Biloxi. There, I covered the devastation left from Hurricane Katrina, and also got the opportunity to work with a sister station in Birmingham, AL.
From the Gulf Coast I was given an anchoring role for a FOX affiliate in Lansing, MI.  My time there led me back to Mississippi, where I worked WJTV-TV in the state's capitol city.  My time there gave me one-of-a-kind experience in my field, and allowed me to meet some amazing people along the way. I was also blessed with the chance to work with other stations within the company in cities like KLFY News 10 in Lafayette, LA and WISH-TV in Indianapolis, IN.
There are so many wonderful teachers, family members, and chance encounters that have played a major role in my achievements. I am forever grateful and have committed myself to helping others make their dreams a reality as well.
All of that time equipped me with the experience I needed to achieve a longtime dream of working in Dallas, TX. It's the perfect fusion of southern charm, and big city living. These were two things that were a major part of my childhood.
It is a great honor to be part of the Good Day team, and I look forward to getting to know the people of Texas.
You can reach me Terrance.Friday@foxtv.com
The latest from Terrance Friday
More than 6 inches of snow fell in Stephenville in Erath County. It's the most in years. But people in Denton and Collin Counties had to settle for just a dusting.
While millions of Americans wait for their first dose of coronavirus vaccine and have no idea when they will get it, a lucky few will receive their second dose Monday.
Arlington police say a group of adults lied about how a 4-year-old child was killed by gunfire on New Year's Eve.
U.S. Marine Corps veteran Lupita Hernandez is dedicated to changing lives and this year is no different. On Friday, she will begin a 250-mile run to honor fellow veterans who have experienced PTSD.
A 28-year-old man is dead after authorities said he was attacked by a wild animal, believed to be a mountain lion, in Hood County.
Blogger and Chef Camarrow Jones-Drake understands you may need a little help making a smaller meal because the holiday crowd isn't recommended this year. She walks you through how to make smaller dishes everyone will enjoy.
DIFFA Dallas is stepping up during the pandemic and raising money to help provide treatment, direct care services, preventive education programs and advocacy for individuals impacted by HIV/AIDS in North Texas. The annual wreath event is November 9-16.