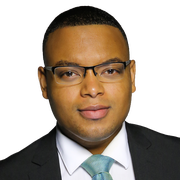 Terrance Friday
Anchor/Reporter
Terrance Friday will join KDFW-TV/FOX 4 on Sept. 3 as a reporter and anchor. He will anchor Good Day Saturday and Sunday and report for Good Day three days a week.  
Most recently, Terrance was the 4 p.m. anchor and reporter at WJTV-TV in Jackson, Miss.  Prior to that, he anchored and reported at several stations including those in Lansing, Mich. and Biloxi, Miss.
A graduate of Tougaloo College in Jackson, Terrance holds a Bachelor of Arts degree in Mass Communications. 
The latest from Terrance Friday
One North Texas hospital is showing parents the shocking truth about what their children might do with an unsecured gun.
Workers at the Arlington General Motors plant are on strike along with others across the country.
Terrance is the newest Good Day anchor and reporter. He'll be behind the Good Day desk on the weekends and out in the field three days a week.