Texas governor signs new law allowing handguns without a permit
Gov. Greg Abbott visited the Alamo Thursday to ceremoniously sign a bill into law allowing most adults to carry a handgun without a permit or training.
At a ceremonial event with the head of the National Rifle Association at the table, the governor celebrated the signing of several pro-gun pieces of legislation.
Under the new law, nearly everyone can carry handguns openly or concealed.
People who've been convicted of felony gun crimes and some other misdemeanors are still not allowed to carry guns, but most adults 21 and older can now carry handguns, openly or concealed.
As part of the law, police will be allowed to question people seen carrying a handgun.
It also requires the Department of Public Safety to offer free, voluntary online lessons in handgun safety.
The governor also signed several other pro-gun laws aimed to make it easier for Texans to carry guns freely. 
"That Second Amendment rights are under assault, that government officials are saying, heck yes, government is coming to take your guns, Texas will not let that happen," Gov. Abbott said.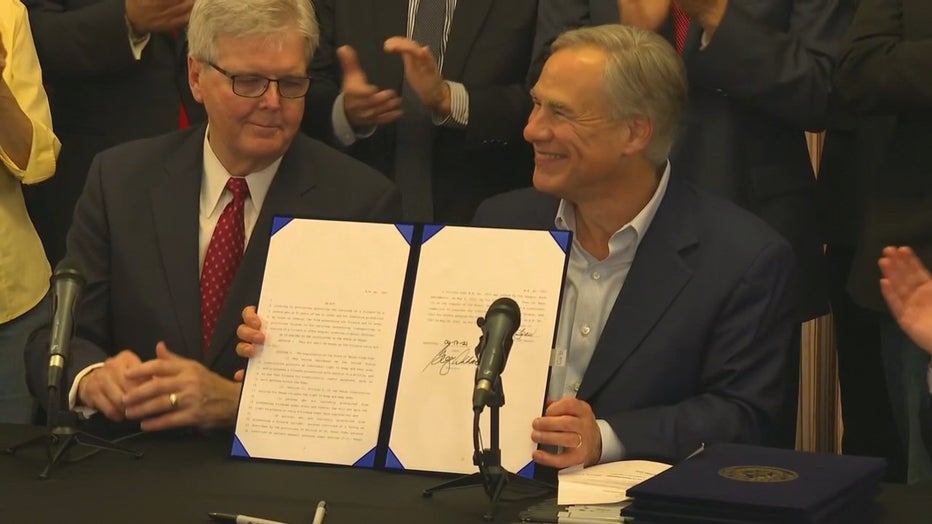 Seven new pro-gun laws are now in the books in Texas. 
The one getting the most attention allows qualified Texans 21 and older to carry handguns without a permit or training.
Another makes Texas a 'sanctuary state' for the Second Amendment, blocking the use of state resources to enforce any new federal gun restrictions. 
There are also allowances for gun owners to store weapons in their hotel rooms, and a repeal of federal restrictions on silencers that are manufactured in Texas. 
Gov. Abbott said the new laws are meant to protect Second Amendment rights against the possibility of expanded federal gun control. 
"The necessity of being able to carry a weapon for the purpose of defending yourself against attacks by others," Abbot said.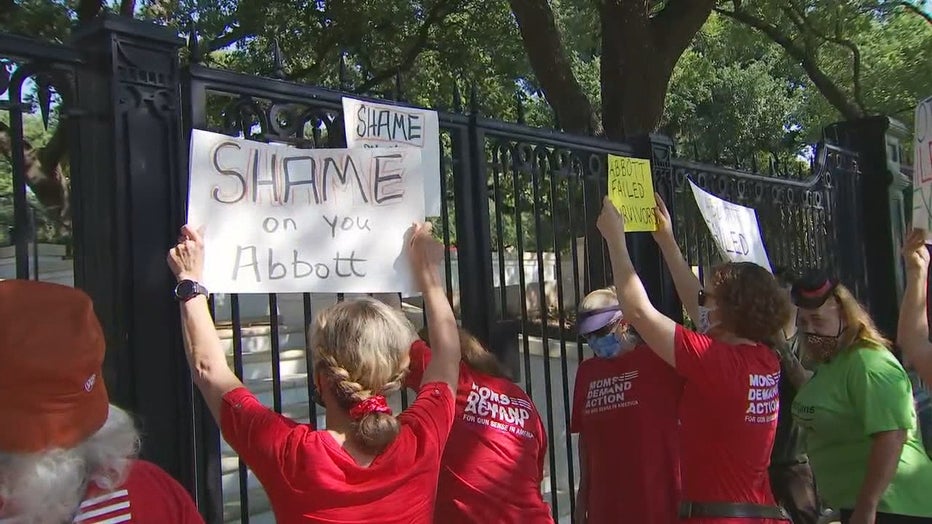 On the same day these new laws were signed, there were protests across the state, in Austin, Dallas, and other cities, by the gun control group Moms Demand Action.
"They had the chance to enact public safety measures to keep us safe, and instead, they advanced permitless carry," said Nicole Golden, with Moms Demand Action.
"Dismantles our permitting system, gets rid of all training for firearms training, no background check, no vetting – it's insane," said Donna Schmidt, with Moms Demand Action.
Early on in the session, several law enforcement leaders traveled to Austin and spoke in opposition of permitless carry.
They argued it would make officers jobs more dangerous.
The law will stiffen penalties for people caught carrying who aren't allowed to because of criminal history.
A UT-Texas Tribune poll from April found a majority of Texans opposed permitless carry, but it is still something that a majority of Republican voters supported.
The effort to pass permitless carry failed in previous legislatures, but became a priority this session among the Republican leadership.
With 2022 mid-term election still ahead of the governor, there is likely political motivation behind Thursday's ceremony and other actions this week, Including his border wall announcement Wednesday. 
"A lot of this is for show, but that constitutional carry is an important piece of legislation," SMU political science professor Cal Jillson said. "It's more a question if he hadn't done it, he would've been vulnerable. Having done it, he just checked a box, so it's not going to make a tremendous difference. But he's already a strong favorite, so what he's trying to do is ensure that stumbles that might be made aren't made."
Gov. Abbott is already facing challenges to his seat and his conservative credentials, notably by Republican and former Texas Senator Don Huffines.
"He just wants to protect himself against them getting to his right, and so on the issues most important to the Republican base, he wants to be as strong as he can be," Jillson added.
The seven new laws signed today go into effect September 1.