Keller U.S. Marine surprises his kids at school in time for the holidays
KELLER, Texas - After more than 300 days away from home, one North Texas military dad will be back with his family for the holidays.
Gunnery Sergeant Benni Bennett of Keller surprised his three sons at school. He's been away from his family after being deployed with the Marine Corps. for almost a year. 
But this Thanksgiving, the Bennett family will finally be together.
Tuesday, Gunnery Sgt. Bennett was an unexpected guest in class for some Keller ISD students.  
Bennett's sons thought it was just another day in the classroom. But on this day, he surprised all three of his sons in their classrooms. 
"It's exciting, it's great to see them," he said. "During my time away, pretty much every day we FaceTime and we talk before bed."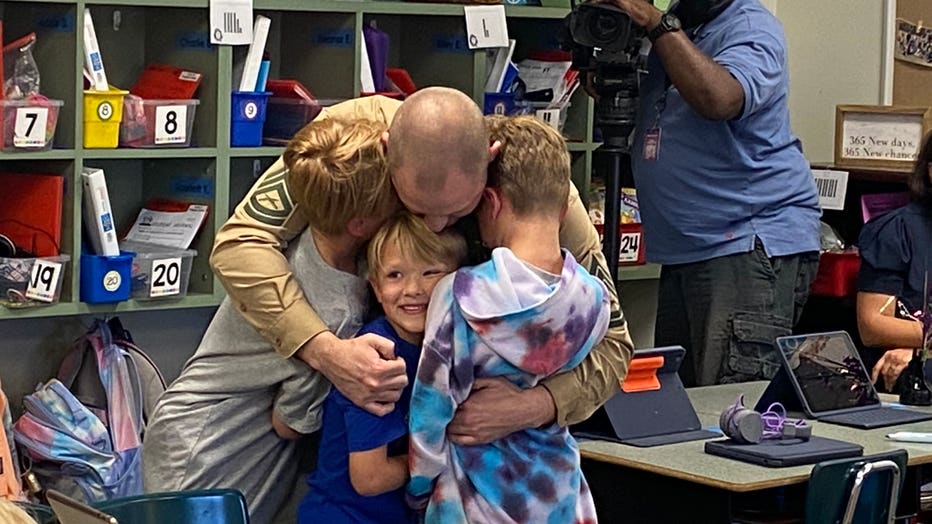 Bennett will be home for the next 20 days on leave before having to return. He says the toughest part of leaving is not being there for his family. 
"Not being able to see the boys before bedtime," he said. "This one especially, he's gotten taller. They've all gotten taller. They don't look as tall when we're FaceTiming. I'm surprised how fast they grow."
Bennett's son's classmates welcomed him back and said thank you to all military members in song. 
Gunnery Sgt. Bennett says he hopes to also be able to make it home for Christmas this year.