Gateway Church congregation gives record-breaking blood donations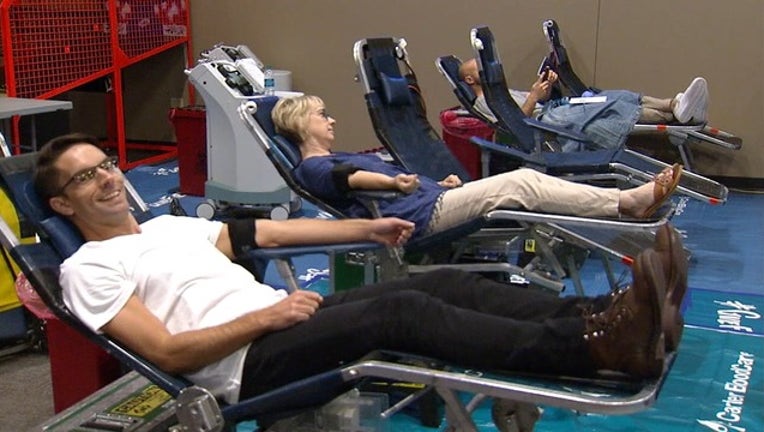 There's been an overwhelming response from a megachurch after a request went out for blood donations.
When Gateway Church Senior Pastor Robert Morris recently had a near-death experience and needed blood during emergency surgery, he realized the need for life-saving blood donations. Many in his congregation from Southlake and other campuses answered his request.
Gateway Church had the last of their blood drives for its congregation this past weekend. The staff was able to donate blood on Tuesday.
The blood drive broke records. They were all motivated by a common theme.
Julie Cole certainly knows that blood can really save a life after giving blood for her mom during a cancer treatment. Her donation becomes part of the largest church blood drive in the history of Carter BloodCare.
"I'm not surprised at all," she said. "And I think it's the beginning of something that can continue."
The blood drive at each of Gateway Church's six campuses brought more than 1,500 people. Carter BloodCare says it saved at least 4,600 lives.
"This consistency and over six weeks' time is remarkable," said Lisa Goelzer with Carter BloodCare.
The church's congregation of more than 30,000 was motivated by their Senior Pastor Robert Morris. He became gravely ill back in April and lost 50 percent of his blood. Morris says donors saved his life so he asked his flock to give back.
"It makes me feel amazing that we're able to pull together as a body of believers and do this for the community," said Phil Buchanan, a donor.
Carter BloodCare says the combination of weekend services on both Saturday and Sunday and a common motivation caused their coolers to be full, which is a rare surplus.
"We have been able to help some other community blood centers when we're usually at the point of asking others," Goelzer said.
The extra blood could help offset a shortage declared Monday by the American Red Cross. It serves only a fraction of the medical facilities Carter BloodCare does. But the Red Cross says fewer blood donations over the Fourth of July holiday week have contributed to its shortage.